Scarsdale Youth Hockey Scores a Big Win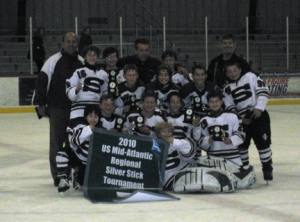 The Scarsdale Youth Hockey Organization took home their first championship victory, winning The International Silversticks Regional PeeWee B Tournament on October 3rd in Ashton, Pa.
The team travelled south to the tournament that started on Friday, October 1, 2010 and got off to a great start, winning 3-1 over the Virginia Wild Green team. Determination and hard work gave these players another two winning games on Saturday, with a 10-0 win over the Virginia Wild Red team and an 8-3 win over the Jersey Penguins.
They entered the semi-finals as the #1 seed out of 16 teams. Another well skated and focused game led to a 5-0 win over the Brewster Blackhawks and a 2-0 win over the North Jersey Avalanche Blue team. Scarsdale was onto the championship game!
In game three of the day, and six for the weekend there was no sign weakness. Team work and dedication lead the team of 10 and 11 year old boys to a championship win of 3-1 over the North Jersey Avalanche White team.
The Raiders are coached by Dr. Steven Nicholas, Andrew Brotmann and Tim Bock and the player line-up is as follows: Matthew Bock, Will Bock, Sep Boeschl, Eric Brotman, Jonny Emmerman, Drew Leffler, Stephen Nicholas, Jonathan Schwartz, Sam Seltzer, Justin Staropoli, Sam Stemrman, Corey Walman and Henry Zurkow.
BLOG COMMENTS POWERED BY DISQUS