Antique Car Show Today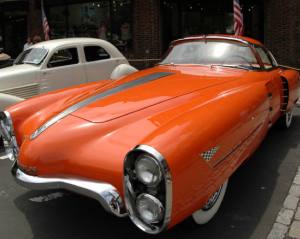 Antique show cars from Westchester County and the Tri-State area are coming to the Village of Scarsdale on Sunday, October 17 from 10:30 am to 4:00 pm. Expected to be on display at Scarsdale Concours 2010 that day for viewing by the general public are Ferraris, Lamborghinis, Ashton Martins, Packard's, Mercedes-Benz's, Porsches and a host of other exceptional cars that span decades of automotive design.
One of the show stoppers for this year's event will be a 1959 Mercedes 300 SL Roadster that was honored at the recent Fairfield, CT, auto show with a "Best in Class" award.
Last year's event drew about 100 participants, many hundreds of spectators and dozens of sponsors. Overall, the event has raised significant dollars for charities across Westchester County.
This year's beneficiaries of the Scarsdale Concours event will be the Scarsdale Historical Society, The Scarsdale Teen Center and the Scarsdale Volunteer Fire Department.
Co-chairs of this year's event are Lucas Meyer, Ralph Della Cava and Bill Doescher, members of the Board of Trustees of the Scarsdale Historical Society. Members of the 2010 committee also include Evan Cygler, who started the Scarsdale Car Concurs event six years ago with Denis O'Leary III, when both were Scarsdale High School students, and Gordan Rafajac.
To learn more visit their website at http://scarsdaleconcours.org/
BLOG COMMENTS POWERED BY DISQUS