Attention Youth Basketball Players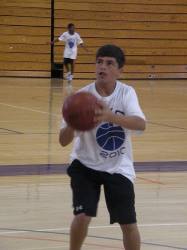 Backyard Sports will be hosting their first annual Basketball Blowout on Saturday, November 20th at SUNY Purchase.
The Basketball Blowout will provide free training clinics and skill contests open to coed players (K-3rd grade). It will also feature instruction from the Backyard Sports coaches. For older players, there will be a 3 on 3 basketball tournament for 4th-12th grade.
Backyard Sports provides weekend and after school sports instruction and game play for boys and girls ages 4-16 years old. Since 2005, Backyard Sports has been the leading provider of community team sports programs in Westchester County.
The programs are designed for every child that desires a positive and healthy sports experience by using a unique approach that combines the highest level of instruction with equal emphasis on human development skills.
Enjoy a great day of basketball along with exhibits from local merchants.
For more information on Backyard Sports and also to register for the 3 on 3 tournaments, visit http://www.byardsports.com/bball-blowout/
BLOG COMMENTS POWERED BY DISQUS