Edgemont Meets Scarsdale in the Final Round of the Tennis Sectionals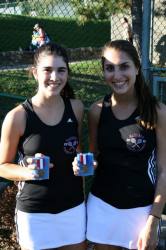 Though the Scarsdale Raiders girls team had many new players this year, the season ended successfully when three teams went to the conference tournament and one doubles team proceeded to the consolation final of the sectionals, vying for a place in the state tournament.
Three Raider's doubles teams competed in the conference tournament at Veterans Park in Ardsley. These three teams included the three Rokito sisters, twins Ariel and Shelby, who are SHS seniors and their younger sister Lindsay, the only freshman on the girls Varsity A team.
For the Conference tournament Stephanie Henkoff and Lindsay Rokito lost in the first round to a the top-rated Edgemont team of Christine Ho and Casey Rogovin who ultimately beat a Scarsdale team in the sectional tournament to win a place at the state tournament. Singles player Ciara Williams teamed up with Shelby Rokito who succeeded in their first round, but ultimately fell in the second round to the Iwasaki sisters of Edgemont, Kozue, a senior, and Tomo an eighth grader.

Singles players Michelle Funari and Ariel Rokito teamed up and went far. In an exciting run, they succeeded to the finals of the conference tournament where they beat Edgemont's number one team of Ho and Rogovinin in three sets, 6-2, 2-6 and 6-2. Having won the conference tournament, they were given the third seed in the sectional tournament.
Funari and Rokito got off to a strong start at the sectional tournament, which was also held at Veterans Park in Ardsley. They won their first round match against Carmel 6-1, 6-0 and in their second round defeated a team from Yorktown Heights, 6-3, 6-2. They ran into trouble in the semi-final where the Hendrick Hudson team of Rachel Buckner and Danielle Hardman beat them 6-1, 6-2, but were entered into the consolation final to vie for a spot at the state tournament in Syracuse. That's when they met up with Edgemont's Ho and Rogovin who Funari and Rokito had defeated to take the conference title. This time, they lost 6-3, 6-4, finishing fourth in the sectionals. Ho and Rogovin will go onto Albany and we will be eager to find out how they fare at the states.
Pictured above: Michelle Funari and Ariel Rokito
BLOG COMMENTS POWERED BY DISQUS