Scarsdale Raiders Soccer Team Takes the Sectional Title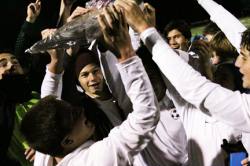 It was a sweet night for the Scarsdale Raiders soccer team on Saturday November 6, when Scarsdale, the #1 ranked team met John Jay High School of East Fishkill, the #2 team for the sectional final title.
Hundreds of spirited fans came to cheer on the team, chanting over and over again "I believe we will win." Among the crowd at SUNY Purchase were parents, students and former SHS soccer players and fans.
They didn't have to wait long for Scarsdale to score, what would be the only goal of the game, during the first half. The Penfold brothers worked together to win the game. The goal was made when junior Tomas Penfold scored after an assist from his older brother, Andres Penfold, an SHS senior.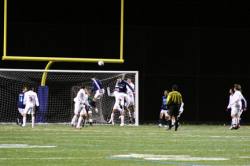 During the second half of the game, John Jay pressed hard to right the score but was held off by a strong Scarsdale defense and goalie Sam Cannon. Scarsdale had a number of opportunities to score again during the second half as David Alemany fired a left footed rocket that rebounded off the upper cross bar of the goal.
When the clock finally wound down with a final score of 1-0 for Scarsdale, the team gathered in a celebration pile on the field and the spectators came down and gathered around them.
In the words of a Scardale parent in the stands, "We were the better team and played like it -- with contributions from everyone on this special team that includes a core group that has played together for a few seasons. The high school and entire community should be really proud of these young men for such a great accomplishment."
This is the first year since 1976 that Scarsdale will play in the New York State tournament, where they are scheduled to meet Vestal on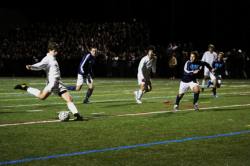 Tuesday November 9 at 7 pm at SUNY Purchase.
Photos by Sarah Schuman
BLOG COMMENTS POWERED BY DISQUS