Scarsdale Raiders Do It Again!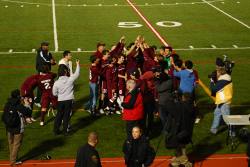 The amazing Scarsdale Raiders soccer team continued their winning streak in the regional tournament against Newburgh Academy on Friday November 12th.
The team and many fans headed north to Middlebury High School in Middlebury, New York to meet Newburgh Academy, who was the defending state champions. Scarsdale High School provided buses so that students could travel to the game and cheer on their team. The stands were packed with fans on a crisp autumn day and according to one parent, "the school spirit was phenomenal."
Though Scarsdale dominated the ball the entire game, the first half ended with the score locked at 0-0. The first goal was not made until 16 minutes into the second half when midfielder Michael Abraham scored off an assist from left
forward David Alemany. And with must 13 minutes left in the game, Andres Penfold sealed the deal for Scarsdale scoring a second goal and bringing the score to 2-0.
The team is on a roll. On Saturday November 6, they defeated John Jay High School of East Fishkill by a score of 1-0 to take the sectional championship and move onto the regionals. In their first match of the regional tournament, they dominated Vestal 2-0 at SUNY Purchase and with the 2-0 win over Newburgh Academy they have now secured their place in the state semi-finals.
Anne Moretti, mother of Luke Moretti was at the game and reported, "the whole team played extremely well. They
were excited, and a bit nervous, to face the defending NY State Champions, who play a very tough game. The strong support of other Scarsdale sports players and other high school colleagues who came to cheer the team on really pushed our players to play their best game. It was a wonderful display of school spirit. This year, Scarsdale has so many strong sports teams, and I'm really proud of all of our teams."
Noel Flagg, father of team member Griffen Flagg, said "Another scintillating performance by a poised team which has their sights set on loftier goals. Raider Nation was on hand once again in huge numbers to support their local darlings. The only disappointment is that we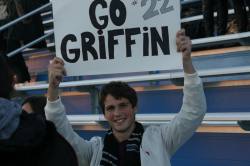 all have to wait till next Saturday for the semifinals." And Elyse Abraham, mother of midfielder Michael Abraham, added, "We're so proud of them; they've all worked so hard for this... and they are having the time of their lives!"
The Raiders will return to Middletown High School on November 20th at 4 PM for the next round. For anyone interested in attending, it's a 1 hour and 15 minute drive from Scarsdale to Middletown, there is plenty of parking and the stadium is beautiful. Go Raiders!