A Winning Season for Scarsdale Youth Football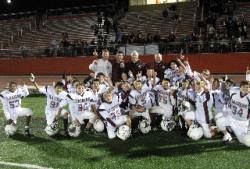 The Scarsdale Recreation Youth Football League will celebrate another great season at their dinner on Thursday night November 18 at Lake Isle Country Club. Over 300 parents and players are expected to attend.
This year, 180 boys participated in the Scarsdale program and the Scarsdale White Team of fifth and sixth graders finished the season 8-0 and won the inaugural Superbowl at White Plains Stadium against the Pelham Blue. Victory came with only 20 seconds left in the game on a long pass from Robbie Keith which was caught by Andrew Shenberg. You can watch the exciting last minute of the game here . The winning team of 24 boys was coached by Bob Keith with Tim Bonci, Todd Leone and Lou Novick. That game was the finale to the first Superbowl Sunday where all teams in the Scarsdale Recreation Youth Football league participated in grades 3/4 and 5/6.
The Superbowl began at 8:30 am and continued through the evening. Teams with similar records were matched to play each other and ended with the highest seeded teams in grades three and four playing at 5:00 and the highest seeded fifth and sixth grade teams playing at 6:30. All of the players got Super Bowl Sunday T-shirts and it was a great day for youth football in the area.
In the Scarsdale League there were three fifth and sixth grade teams and two teams of third and fourth graders. The single team of seventh and eighth graders also finished the season undefeated. Five players from that team were selected to play in the Graduation Bowl, which was played at Valhalla High School. Since Scarsdale's seventh and eighth grade team won the league, Coach Philipps was chosen to be the head coach at the Graduation Bowl.
Kudos to Rippy Philipps who oversees the entire program and serves as the head coach of the seventh and eighth grade team. Special thanks to Rich Massaroni, Assistant Superintendent at the Recreation Department who manages the entire Scarsdale Youth Football League and to Jim Huebner, the head coach and representative for White Plains youth football, who organized the day and evening festivities.
According to Rippy, "the season was off the charts."
Pictured above: Fifth and sixth grade Scarsdale Raiders WHITE Team wins first Superbowl under the lights in White Plains.