In the Spotlight The Penfold Boys
Published on Wednesday, 17 November 2010 17:54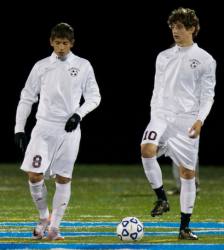 The Penfold boys are a Scarsdale phenomenon. Andres a senior at SHS and his brother Tomas, a junior, star on the Scarsdale Raiders Soccer team that will play in the semi-finals of the state tournament this Saturday in Middletown against a team from Brentwood, Long Island.
The boys, who are just one year apart, have been playing soccer since they lived in Venezuela. Their Dad, Ricardo Penfold, was a soccer star himself, and played on the Boston University soccer team where he was the captain during his senior year and also played on the u21 Venezuelan National Team. He has been a role model and a coach to the boys since he started to kick the ball around with the boys when the family lived in Caracas. They moved to Greenacres when the boys were six and seven, and they both started on the Scarsdale Recreation teams, moving onto the travel teams and later joining FC Westchester, where they still play year round.
Andres and Tomas train on the field in all seasons, and travel with the FC Westchester team to places as far as California and Arizona. Andres credits this experience with the boys' success today. Teammates Hiroki Kobayashi, David Alemany and Michael Abraham also play on the FC team and the group has learned to work together and coordinate play to become the unbeatable team they are today.
The Penfold boys both play soccer constantly – with three team practices during the week and two games on the weekend. It's a challenge to find time for schoolwork, but according to Andres, the time pressure has caused both boys to "mature at an early age." Andres played on the Varsity B team as a freshman and moved to Varsity A for his sophomore, junior and senior years, where he now plays center forward. Tomas joined the Varsity A team as a sophomore where he is an attacking midfielder.
This season, Scarsdale won 20 games and lost two. According to Tomas, a pivotal moment in the season was after the team had two unexpected losses to North Rockland and Mamaroneck. The coach spoke to them at practice and encouraged them to work together, rather than playing as individuals and that practice proved to be a turning point in their performance.
Looking forward to Saturday's game, both Tomas and Andres are confident that if the team plays their game, and works together, they can win. According to Andres, since "Brentwood is in the same position we're in, they must be a great team," however, Tomas adds, " We have lots of talent on this team, and if we play the way we have been playing, we should okay."
When asked if they like to play together, Andres and Tomas gave heartfelt replies. Tomas said, "I have played soccer with Andres my whole life. We have very good chemistry and I know where he is on the field at all times." Andres answered, "Tomas is one year younger than I am and we have trained together our whole lives.
Our relationship is based on soccer, whether we're on the field or in the gym. Being able to play with him is a joy and he is one of the reasons high school is so much fun."
The two will have the chance to finish this season together. Next year, Andres has made a verbal commitment to attend Monmouth University whose Division One soccer team is currently ranked 13th in the country.
We wish the Penfolds and the Raiders the best of luck in the state semi-finals this weekend.
BLOG COMMENTS POWERED BY DISQUS