An Outstanding Performance by Raiders Wrestlers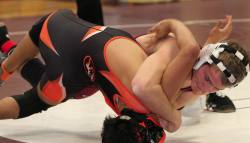 Despite a weather delay of several hours due to the snow, the annual Scarsdale Invitational Wrestling Tournament on Saturday, January 8, 2011 was a success. Scarsdale finished in 3rd place among the 14 teams in the competition. With a strong turnout and many boisterous fans, the team members put on an impressive performance.
Though some of last year's stars have moved onto college, this year's team has stepped up to the challenge and is determined to rebuild and come out as strong. Overall the team performed well with a few notable displays:
Sophomore Mikey Hodges had a successful day and came out on top in each one of his matches and took second place in the 103 lb weight class.
John Tambunting, a junior, dominated his opponents in his first three matches and made his way into the finals, taking second place in the 112 lb. weight class.
Dan Jureller, also a junior, lit up some eyes with his exhilarating overtime win in the quarter-final match against the second seed, and his come from behind victory in the semi-final match against Mt. Vernon. Jureller went on to take second place in the 119 lb. weight class.
SHS Junior Jack Braun at weight 171 lbs. fought hard into his final match against the second seed from Mt. Vernon, and despite an injury, Jack came out on top, taking first place in the 171 lb. weight class.
Jacob Berkowitz (seeded 2nd in section 1) at weight 189 lbs. easily dominated his opponents and took first place in his class. Other team members from the Scarsdale team took third through sixth place and overall the team scored 3rd place in points among the 14 teams.
Finally, it was no surprise that
The team has been working hard under the leadership of coaches Barney Foltman and Brian Roemer their efforts paid off on Saturday. With their skill and camaraderie the Scarsdale wrestlers are sure to have a winning season.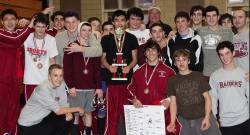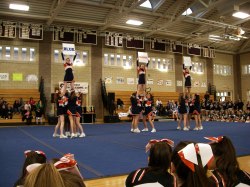 In other SHS sports news, the sixth annual Scarsdale High School Cheerleading Competition will be held on Saturday January 15 at SHS from 8:30 am to 5 pm. Over 35 teams from local high schools will compete and 1,500 cheerleaders, coaches, parents, students and community members are expected to attend. Everyone is encouraged to come and cheer for the SHS junior varsity and varsity teams. There will be plenty of good food, prizes and raffles too.
Pictured above: Daniel Jureller, wrestling photos courtesy of Leslie Berkowitz

BLOG COMMENTS POWERED BY DISQUS