Kids Walk the Tightwire at Circus Arts Camp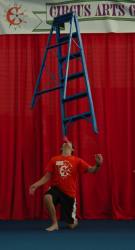 Once the circus is in your blood, it seems it never goes away, and once you are part of a circus family, you never quite leave. Consider the folks of the Circus Arts Camp in Hartsdale (CAC): The three directors who started this camp more than twenty years ago and are responsible for its highly successful approach to training and curriculum, are themselves accomplished circus performers.
Chris Glover, Philippe Vercruyssen, and George Orosz have names like "Barnum & Bailey," "Big Apple," and "Cirque du Soleil" throughout their resumes, and they have performed all over the world. The professional teachers and coaches on their staff return summer after summer to lend their special talents in instructing kids as young as seven to juggle, tumble, walk the tightwire, ride a unicycle, spin plates, perambulate on stilts, twirl on a rope about twenty feet above the ground, somersault on a trampoline, shoot a fellow clown from a cannon, and a bunch of other activities that make "arts and crafts" sound like something from the Dark Ages of Summer Camp.
Contributing to the camp's impressive ratio of one staff member for every five campers is an elite team of counselors-in-training who are also "oldtimers" despite their young years.
Tatiana Fischer at the age of 15 is looking forward to her ninth season of Circus Arts Camp. She knew it was the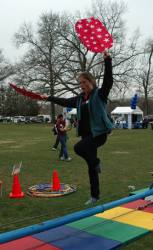 place for her from the very first day, and she credits the fun she's had on the tightwire and static trapeze with honing the balance and timing she relies on in her daily training as a competitive synchronized skater. She doesn't plan on making the circus her entire life—she wants to prepare for a career in the fashion industry after graduating from Soundview Preparatory—but the circus will always remain an important part of her growing up.
The same could be said for 17-year-old Katerina Barry, who also has eight years at Circus Arts Camp under her safety belt, and like Tatiana, has progressed from camper to counselor.
"I've always fit in perfectly here and thought from the beginning 'this place is so cool'—different from anything else I'd ever done."
As an aspiring teacher, Katerina voices enthusiasm for her summers now spent helping young children walk the wire or stay up on a pair of stilts, saying she hopes to "teach a new generation of kids" what she knows about circus skills.
Asher Novick has been part of the Circus Arts Camp family for so long he doesn't remember the exact age he started attending. "I was really little and they were still in Purchase then," he offers.
The camp began in 1989 on the SUNY campus in Purchase, but it has been calling the air-conditioned gyms of the Solomon Schechter School of Westchester in Hartsdale its home for several years now.
It is a convenient location for Asher since he is in his final year of high school at SSSW, and is bound for Cornell next August. Asher says his desire to pursue a degree in physics there grew out of his circus arts training and his special abilities in balancing.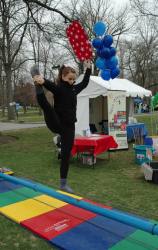 "I can balance pretty much anything—chairs, bicycles, tables." At CAC he began analyzing the center of balance in the objects he supported, and wound up with the ability to balance a 6-foot ladder on his chin. "You can impress people with that," he quips. Of the counselor role he has had at Circus Arts Camp these past few years, he says, "When you're good at something, you pass it on to someone else." The Cornell campus may be due for an uptick in the number of people who can balance a bicycle on their head.
Circus Arts Camp offers three 2-week sessions from June 27 through August 5, and each session ends with the campers' Big Circus Show, an exciting two-hour performance for family and friends. The final week of the season is Aerial Arts Week, August 8 to 12, with instruction devoted just to aerial skills, including the Spanish web, lyra, trampoline, fabric, and even the flying trapeze. After-camp care is available for all sessions and lunch and snacks are included in the tuition.

You can find out more about the camp and get registration information at www.circusartscampny.com or call 914 923-4650. But if you are considering Circus Arts Camp this summer, be forewarned: It can be an addictive experience, and the skills last a lifetime.
Photo Captions:
(Top) Asher shows off his remarkable balancing skills at the Big Circus Show that ends every Circus Arts Camp session at Hartsdale's Solomon Schechter School.
(Middle) As a counselor at Circus Arts Camp in Hartsdale, Katerina refines not just her circus skills but also her abilities as a teacher—the profession she plans to pursue in college.
(Bottom) Tatiana demonstrates her formidable balancing skills at the recent Go the Distance walkathon for Maria Fareri Children's Hospital, where she and her fellow counselors helped youngsters walk the wire and master a diabolo.
BLOG COMMENTS POWERED BY DISQUS