Edgemont Bowlers Place First in State Competition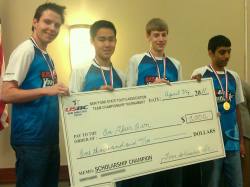 Three Edgemont boys took first place at the NYS Bowling Congress in Syracuse on April 30. The three teammates, James Butler, Jeff Lee and Abhishek Saraiya are all seniors at Edgemont High School where they compete on the Varsity Bowling Team. The fourth member of the team is Matthew Brusco, a junior from Stamford, CT.
Over 800 bowlers from all over New York State competed with 20 teams vying in the Class A competition. The team of Butler, Lee, Saraiya and Brusco placed first in the 2011 Class A, New York State United States Bowling Congress (USBC) Team Championship Tournament Finals. In addition, Abhishek Saraiya placed first in the Individual High Series Handicap. The boys were awared gold medals and a four year annual scholarship of $1,000 per year to be shared among the teammates.
Congrats to these star bowlers!
Pictured from left to right: Matthew Brusco, Jeff Lee, James Butler and Abhishek Saraiva. Photo courtesy of Dori Lee
BLOG COMMENTS POWERED BY DISQUS