Raiders Boys Tennis Team Dominates League and Sends Six Teams to Conference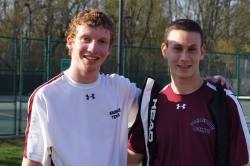 For the second consecutive year, the Scarsdale Varsity A team has won the league. In fact, Scarsdale has not lost a league match in the past two years. Commenting on the success of the season, Scarsdale coach Jennifer Roane states, "We were undefeated in the league and the only match we lost was to a very strong team in Cold Spring Harbor. As a test to our talent, we were invited to go to California next year." In March of 2012, Scarsdale will be traveling to California to compete in a tournament to which only sixteen high schools in the country were invited. It comes as no surprise that Scarsdale had a record six doubles teams in the Conference II tournament.
The All-State doubles duo of Ben Fife and Austin Kaplan came into the Conference tournament as the number one seeded team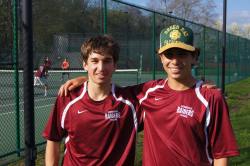 . Fife and Kaplan finished second in the state tournament last year and have continued by capturing the doubles league title last week. Due to the rain, Fife and Kaplan could not begin their Conference title quest until Friday, May 20th when the matches had to be moved to Sound Shore Indoor Tennis in Portchester. The doubles state finalists cruised through to the conference finals where they met a very strong Pelham team. Scarsdale persevered to win the conference finals in straight sets 6-4, 6-4. Fife believes they have yet to reach their potential this year and will continue to improve. "We are waiting to really show our talents but I am definitely content with our play to this point," says Fife. Kaplan agrees that their postseason play will continue to improve and he has the state tournament in mind. "First we are going to focus on the sectional tournament, but of course we have our sights on returning to states," says Kaplan. Certainly, the sectional tournament will be exciting for this talented duo.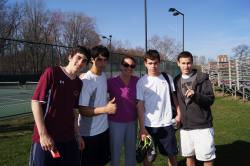 The other Scarsdale doubles teams who qualified for the conference tournament were Jared Greenwald and Ian Rabin, Ben Shapiro and Johnny Baker, Andrew Gorobetz and Ben Bernstein, David Josselson and Danny Somekh, and Tom Kohn and David Goldberg. Goldberg, Scarsdale's co-captain, was defeated in the quarterfinals despite advancing to the state tournament the past two years. Greenwald and Rabin played an excellent first match, winning 6-0, 6-4. Unfortunately, the tandem of Greenwald and Rabin were defeated in their second match by a very strong New Rochelle team. Gorobetz and Bernstein won a tight and exciting first match 7-5 3-6 10-5 against a strong Solomon Schechter team. After a hard fought second match, Gorobetz and Bernstein were defeated in a super tie-breaker 6-4 3-6 10-6. Shapiro and Baker were forced to play fellow teammates Somekh and Josselson in the second round. After a tight first set, Baker and Shapiro were able to improve their serve and volley strategy in order to win the match 7-6 (4) 6-1. Shapiro and Baker fell to the finalists in the semi-finals and earned a spot in the sectional tournament. The section one tennis tournament will begin Wednesday May 25th at Veterans Park at 3 pm.
BLOG COMMENTS POWERED BY DISQUS