USTA Tennis Tournament on in Scarsdale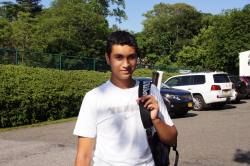 The John Parker Compton Memorial Tennis Tournament is underway this week, with matches played at the Fox Meadow Tennis Club and at Scarsdale High School. Now in its 65th year, the tournament is open to all area high school-age tennis players. The "Comptons" is a USTA level 2 sponsored event.
Matches began on the afternoon of Monday, June 6th and will continue this week with the last final to be played on Monday, June 13th.
According to tournament director Dorothy Yewer, 40 players enrolled this year, all playing singles in draws for
boys and girls 14 and under and 18 and under. There was not adequate sign up for a doubles draw. The boys 14 and under was the largest draw with 19 players participating while the girls 14 and under had just 7 entrants.
On Thursday, June 9 the boys 18 and under singles final will be played at Fox Meadow at 3:30 pm when Scarsdale's David Josselsohn is set to meet Douglas Gursha of Chappaqua. At the same time there will be two boys 14 and under matches in progress.
In the girls 14 and under final on June 8, Adrienne Travis of Scarsdale defeated Francesca Johnson also of Scarsdale 6-1, 6-4. The girls 18 and under final is set for Friday at 4 pm. Unfortunately the number one and number two seeds, Michelle Furnari of Scarsdale and Jackie Urbanati of Harrison withdrew. The boys 14 and under final will be played on the afternoon Monday, June 13.

Pictured at top: Aazum Shaikh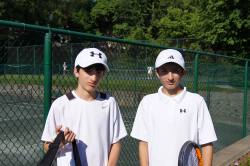 BLOG COMMENTS POWERED BY DISQUS