Grant and Grinhaus Receive Golden Dozen Award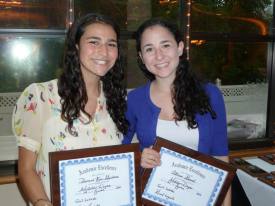 Senior Co-Captains Allie Grant and Kim Grinhaus both received multiple awards at the All-Section Lacrosse Awards dinner on Tuesday, June 14th at the Casa Mia Manor House in Blauvelt, NY. Kim Grinhaus, a goalie, was honored as an All-Section goalie, and Allie Grant, a midfielder, received All-Section Honorable Mention. Grinhaus made 76 saves this season, which was shortened due to injury. Grant led the team in goals scored with 62 goals in 2011 and also had 10 assists; she had 7 goals and 1 assist in a 16-11 loss to North Rockland. The Scarsdale team lost in the Section 1, Class A, Quarterfinals to Lakeland/Panas, the eventual Section 1 champion.
While there were 100 recipients of All-Section Honors, selected from over 40 high schools, only 12 athletes received the coveted Golden Dozen Award, two of which were Allie Grant and Kim Grinhaus. This award is bestowed upon a select few senior athletes who not only stand out on the field but also excel in the classroom and in giving back to the community. Athletes were selected from all of Section 1 which includes Westchester, Rockland and Putnam Counties. Both athletes were also honored this year and last year as U.S. Lacrosse High School Academic All Americans.
Allie Grant will be going to Cornell University in the fall. Grant scored over 100 goals in her varsity lacrosse career netting her 100th goal in Scarsdale's playoff win over Carmel. In addition, Grant was a two-sport athlete, also being Captain of the Gymnastics team this year, and qualifying for post season competition all four years on floor and balance beam events. She received All-League honors for her efforts in gymnastics for the past two years. She has been involved in community affairs, working with children whose lives have been touched by cancer at Gilda's Club as well as working with developmentally disabled and underprivileged children at Southeast Consortium and Westchester Youth Bureau. She was a Peer Leader, involved in student class government and was also honored by Scarsdale's Rotary Club this year for her community and academic efforts. Grant is a member of the Honor Society and was one of 10 finalists in the Tri-State Area for Deloitte-Touche's Positive Coaching Alliance 'Triple Impact' Award in Fall 2010 for her contributions/success in sports, academics and community service activities.
Kim Grinhaus will be continuing her lacrosse career at Union College in the fall. She also played varsity Soccer for Scarsdale and was a starter and received All League honors this year. With a rigorous academic load, Kim also found the time to contribute significantly to the community. She helps children with special needs by teaching them sports. In addition, she has worked with autistic children using music and the arts to help them develop positive self esteem. Grinhaus was also a civics education advisor at the high school for the past two years. She was selected to represent the Hudson Valley and Empire State Lacrosse teams for her outstanding performance and ability. As a result of her sports, academic and service record, she just received the Nina F. Mooney Memorial Award at Scarsdale HS to a senior girl for these contributions.
Other Section 1 student athletes who received the Golden Dozen Award were: Julia Bruton (Bronxville), Katherine Flynn (John Jay CR), Hannah Gutenplan (Horace Greeley), Melissa Hanson (Walter Panas), Kristen Hodgkinson (Yorktown), Kristina Howe (Pleasantville), Aileen Kurpis (Yorktown), Mackenzie McIndoe (Clarkstown North), Megan Murray (Bronxville) and Geneva Toland (Nyack).
BLOG COMMENTS POWERED BY DISQUS