Scarsdale Athletic Director Retires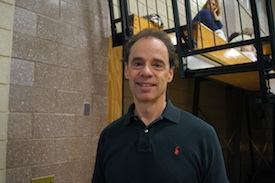 After many successful years in the Scarsdale School District, Scarsdale High School's athletic director, Michael Menna is retiring. As a member of the SHS graduating class of '73, Menna developed an early love for SHS. He returned to the district in 1986, working as a physical education teacher at Greenacres elementary school. Menna began working with their athletic department during his early years in the district. He coached the junior varsity baseball team, assisted the varsity football team and was the head coach of the varsity ski team, all while working in the district.
Menna was approached 11 years ago and offered the position as SHS athletic director. Menna gladly accepted the challenge. He viewed this opportunity as a chance to "make the students' participation the best possible experience". Menna had many goals in mind to improve Scarsdale's athletic department, such as "grow the facilities, increase student participation and develop the respect student's athletes have for each other and their opponents".
Menna's hard work and determination allowed him to fulfill his intentions. Under Menna's tenure, significant changes were enacted to improve SHS athletic program. The bowling team, crew team, varsity B tennis, modified hockey and the girls' golf team were all added during his tenure. Menna's participation with Maroon & White and Scarsdale residents led to some new great traditions at SHS, such as the cheerleading tournament, pep rallies and the wonderful raider pride weekend. "Raider pride weekend is a time where students, fans and athletes can express their pride for their school and their sports team", said Sam Bromer '12.
Menna says he cannot take all the credit for the improvements to SHS athletic department. He strongly credits and thanks "the coaches' hard work and effort, the Scarsdale Board of Education for support, Maroon & White and the residents of Scarsdale for supporting the student athletes". Menna especially "thanked the students for their ability to balance their responsibilities and for showing respect on and off the field".
Despite the fact that Menna says he is "going to miss the coaches, student athletes and games", next year he plans to continue to work in business as a project manager.
Although, Menna is retiring, his love for SHS athletics is not. He plans to return to SHS to visit. As for who is going to be the next athletic director at SHS, Menna can only guess. He has no say and a committee has been named to elect the next athletic director. Whoever is elected will hopefully continue to improve and grow SHS athletics just as Michael Menna has.
Author Jake Bank is a rising senior at Scarsdale High School. He is a member of the varsity Ice Hockey Team and varsity Lacrosse team. He is also a member of the Scarsdale A School.
BLOG COMMENTS POWERED BY DISQUS