Go Hard or Go Home: EHS Girls Tennis Turns Heads At NYS Championship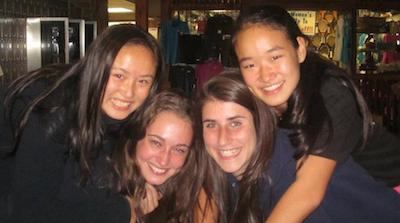 "Go hard or go home," was the phrase printed on the T-shirts of the Edgemont girls' tennis team this year, and there isn't one person in New York State who can deny that the girls went hard. The doubles team of sophomore Alexa Goldberg and freshmen Tomo Iwasaki turned heads this year when they fought all the way to the finals of the Section I tournament, played at Sound Shore Indoor Tennis in Port Chester, guaranteeing them a spot in the state tournament. Although the young duo didn't pull out the Section 1 title, there was no disappointment as they lost to their teammates, seniors Christine Ho and Casey Rogovin. While coach Jim San Marco was proud of his girls for dominating the section, he knew that they were capable of so much more.
"There were only six to eight teams that could've won it all," said San Marco about the state championship, played just outside of Syracuse. "We had two."
San Marco was right. Ho and Rogovin, the top seed at the state tournament, came out firing as they trounced the Hewlett team of Paula Faltynowcisz and Alana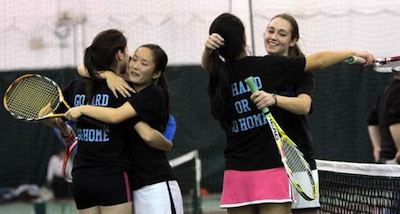 Davidson in a commanding 6-0, 6-1 massacre. Both Ho and Rogovin were on the varsity team as 7th graders, and the girls were not strangers to playing at the state level.
"Casey and Christine made states as sophomores," San Marco exclaimed. "As juniors, they may have felt a little entitled. When they lost as juniors, they learned that they would have to work even harder if they wanted to make an appearance in the finals."
San Marco made a point to remind his girls that there are no guarantees in tennis. Losing, as sophomores and juniors, provided Ho and Rogovin with an edge when they returned to states as seniors.
"Our experience helped us prepare," stated Ho. "We learned to stick together. In previous years, we let our nerves take over; but this year, we remained concentrated on staying relaxed."
Staying relaxed appears to have been the game changer, as the girls entered a difficult quarterfinal match. Ho and Rogovin found themselves down a set to the eighth seeded team of Gabriella Leon and Veronika Paikin from Pittsford Mendon.
"We went into the tournament with the same strategy as always," said Rogovin. "No mistakes, get the ball back, never give up, and always believe in yourself."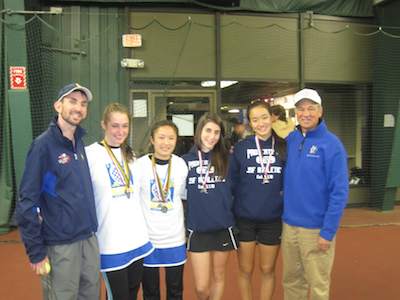 Sure enough, being two points away from defeat, Ho and Rogovin stayed true to the words on their shirts. They were not ready to go home just yet. The girls began working in tandem, as they elevated their games to a whole new level. Not only did they come back and take the second set 7-5, but they also persisted to dominate the remainder of the match, winning the third set in a commanding 6-3 performance.
"We've come back so many times that we knew we had the confidence to beat anyone," said Rogovin. "The support we got from our coaches and teammates really helped us during the change overs."
Goldberg and Iwasaki, the fourth seed in the tournament, did not show any weakness as they triumphed into the quarterfinals, losing a mere six games in two matches. In a similar fashion to their older teammates, the underclassmen found themselves struggling to fight for their spot in the semis against the sister team of Bridget and Mickey Harding from Vestal. After taking the first set 7-5, a few strings came lose as they dropped the second set 6-2.
"Tomo was not serving well," stated San Marco. "However, we had been working on her first serve in practice, so when the time came, she was prepared to make the adjustment. She started slowing down the pace of her serve and placing it, and she started serving beautifully."
The adjustment paid off as Goldberg and Iwasaki punched their ticket to the semis with a 6-4 victory in the third set. The girls displayed a tremendous amount of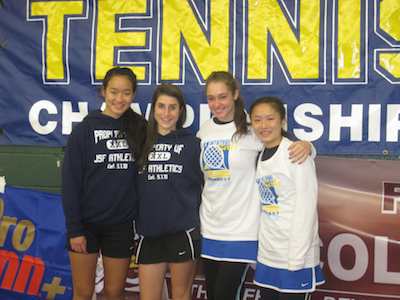 maturity for their age, and part of that should be credited to the leadership of their captains.
"They taught us to never give up," Goldberg said of Ho and Rogovin. "We just played our game, hung in there, and capitalized on our opportunities."
While both doubles teams valiantly earned their places in the state semi-finals, only one team could possibly make it through to the finals. Since the bracket sets up for the second seed to meet the third seed in the semis and for the first seed to play against the fourth, both of San Marco's pairings were forced to go head to head in a rematch of the Section 1 finals. One might think the girls would've turned against each other at this point; however, one would be wrong.
"Were always going to be friends first," said Goldberg. "We were so happy that one team from Edgemont would be represented in the state finals; and win or lose, we knew that we would still love each other."
Although tennis is commonly thought of as an individual sport, these girls have proven that a team is still a team, even when forced to compete against one another. The seniors won the rematch 6-3, 6-4, and for the second time in a week, there was no disappointment from anyone involved in the match. The girls proceeded to smile and hug each other, as if the match had never happened.
"Were all really close on and off the court," Iwasaki stated with a humbling smile. "We are a big family."
Although you may find this quote to be a bit cliché, I will testify that, as a former tennis player for Scarsdale, I've never seen such a strong bond between high school teammates. And, in my opinion, this is a testament to an outstanding coach.
"Coach taught us to believe in ourselves," said Ho. "Many of coach's lessons could apply to real life as well."
All of the girls clearly feel passionately about the coaching staff. Rogovin made it very clear that assistant coach, Jeff Menaker, should also be given credit for helping all of the girls achieve their success.
"Coach Menaker was always there to support us when San Marco was working with some of the other girls," said Rogovin. She then stated the following about the great coach, Jim San Marco, "Instead of trying to make us better tennis players, coach did everything he could to make us better people."
The seniors' final match came against a familiar foe, the seventh seeded Cruz sisters of New Rochelle High School, another Conference 2 school. Cassidy and Jessie Cruz, who had lost to Goldberg and Iwasaki at the Section 1 tournament, won the match 7-5, 6-2. Although Ho and Rogovin ultimately lost in the finals, there is still something to be said for the second best doubles team in the state; furthermore, Goldberg and Iwasaki won the third place match, giving Edgemont High School the second and third best doubles team in the state of New York.
"On any given day, any of those teams could've beaten each other," said San Marco. "It shows the strength of our conference."
San Marco said that the goal going into every season is for every player to work as hard as possible, so that by the end of the season, each player should be the best that she can be. He also stated that if this goal is achieved, winning takes care of itself. Before I left his office, coach told me something that will resonate with me for the rest of my life. He said:
"We don't lose matches. We either win or we learn."
Have you ever heard a more accurate coaching philosophy in your life? His players clearly carry this mentality, and you know what they accomplished. The girls made a combined statement about coach San Marco, and I'll leave you with this:
"Coach always said to have no regrets. He told us never to underestimate or overestimate an opponent. Coach said to never fear your opponent, but to respect your opponent. Lastly, he told us that all you need to succeed is 'Guts, enthusiasm, and a little bit of luck."'
Best of luck next year, girls. You've been taught by the best.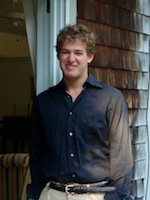 Author Michael Kanner is a graduate of Union College with a background in English and a passion for the written word. He worked at Scarsdale Golf Club as a tennis pro before offering his services to a private clientele, and he loves hearing constructive criticism from anyone willing to speak their mind. Michael can be contacted at Michael.Kanner4@gmail.com
BLOG COMMENTS POWERED BY DISQUS