Raiders Fail to Tame Byram Hills Bobcats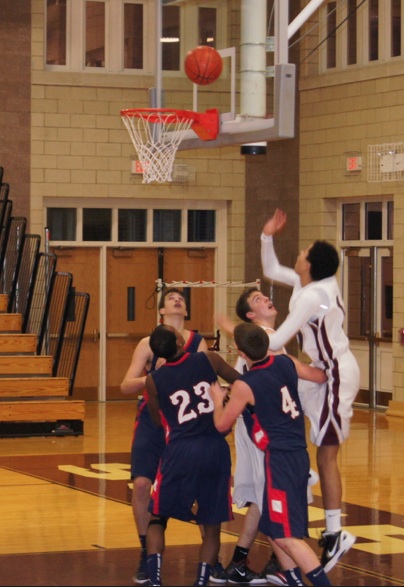 Success seems to be evading the Scarsdale Varsity Boys Basketball team who suffered another disappointing loss on Tuesday January 24. The Byram Hills Bobcats came to Scarsdale with an 8-3 record and Junior Jeff Lynch in their lineup. Lynch made the Bobcat's Varsity team as a freshman and was named a Super 7 Player by MSG Varsity after he lead his team to the State Class A Semifinal last season. Though he has been suffering from ankle injuries this season, he started in the game against Scarsdale.
The game started out close -- and a minute and a half into the first quarter, the score was tied. Since the Bobcats are known for taking a fast lead at the start and cruising through the balance of the game, it was good to see the Raider's holding them in check. However, the Bobcats quickly turned the tables and went on a 17-0 run, leaving the Raiders down by 17 points as the buzzer rang.
During the second quarter, the Raiders fought back. The score narrowed as Larsen, Plummer, Squadron and Hewitt scored. Junior Jon Cohen, the leading scorer in the game against White Plains on Friday was subbed in, fouled and scored two points by sinking two foul shots. Point Guard Squadron was also fouled and scored again, bringing the score in the second quarter to 18-26 for Byram Hills. Right before the half, Plummer made an acrobatic leap and scored gracefully again and the Raiders were down by only six points at the half. Overall, in the second quarter the Raiders hardnosed defense was able to check the Bobcats' pure shooters and limit them to 1 out of 13 shots from the field.
When they played "That's Life," by Frank Sinatra during half time, the song said it all. The Raiders began the third quarter by scoring, narrowing
Byram Hill's lead to four points, but after that, they could never catch up. The third quarter ended at 35-47 and with four minutes left in the fourth quarter, Scarsdale was behind by 14 points.
At that point, the Bobcats took out their starting team and brought in players from the bench. Scarsdale took this opportunity to rally back and Aleks Larsen and Greg Scacchi brought the score to a seven-point spread with a minute left on the clock. However, it was too late to close the gap. Similar to the ending of the White Plains game, Scarsdale desperately tried to foul their opponents to stop the clock.
With only a minute left, and the score at 47 to 58, Byram Hills was given the ball for yet another foul, and scored two baskets bringing the final score to 50 for Scarsdale and 60 for their visitors. Scarsdale now stands at 4 wins and 9 losses for the season.
Scarsdale plays again at home at 4:15 pm on Friday 1/27 where they'll meet Gordon, who they beat decisively earlier in the season. Hopefully this week will end with a win. (Pictured at top: Raider's Greg Scacchi)

BLOG COMMENTS POWERED BY DISQUS