Raiders Beat Rams by 30 Points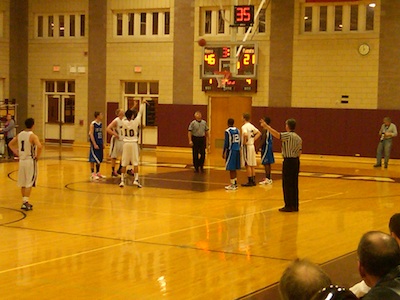 On Saturday, February 4, the Raiders played their last home game against the Port Chester Rams (1-12 entering the game) in the final game of Breast Cancer Awareness day. Earlier that day, the freshman team faced off against Harrison and then the JV team played against Port Chester. All players from all six teams were given pink shoelaces to show their support for the cause.
Scarsdale came into the game with a sense of urgency. Although they had already clinched a playoff berth, with only five wins it seemed likely that they would have to play perennial powerhouse Mount Vernon, who is going for their third straight New York State championship. Another factor that added to their must- win mentality was that last year, when the Raiders faced the Rams, the Rams left their gym with a victory.
The game started and a minute later the score was already 10-2, with the Raiders leading. Scarsdale's defense looked strong throughout the rest of that quarter. Tim Brown, Port Chester's left-handed center seemed to be the only person that could penetrate the tight 2-3 zone. The quarter ended with Scarsdale senior, Jeff Schwartz hitting a deep 3- point shot at that buzzer, leaving the score at 21-11.
In the second quarter, Aleks Larsen, Andrew Crean and Greg Scacchi all showed their scoring ability, displaying an arsenal of outside, mid-range and inside scoring. By the end of the second, the Raiders also found a way to stop Tim Brown, and in turn led Scarsdale to only give up 6 points that quarter. At the half, the score was 37-17.
In the third quarter, all of the seniors got into the game, and were able to extend the lead to 52-38. The only junior who played in the first three quarters was Alex Squadron, as this would be the last home game the seniors would ever play.
In the fourth quarter the rest of the team got in the game and showed promise. Robert Plummer, Jon Cohen and Jack Hewitt never entered due to injuries.
The final score was 67-37. Aleks Larsen led all scorers with 15. Andrew Crean and Greg Scacchi each added 13 points.
Scarsdale's next game is this Tuesday at Mount Vernon High School, and then they wrap up their regular season against rival, Mamaroneck on Friday at 4:15.
BLOG COMMENTS POWERED BY DISQUS