Raiders at Mt. Vernon February 6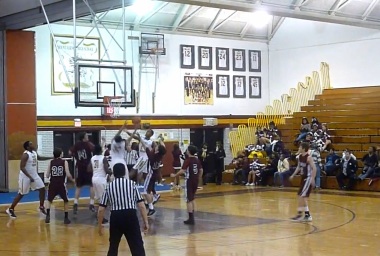 The Raiders played their last away game of the regular season on Tuesday, February 6 at Mt. Vernon where they faced off against the two-time defending state champion Knights. As the Raiders entered the gym they could see all the championship banners that hung all over the walls, a very daunting sight. For eleven out of the past twelve years, the Knights have won the Section 1 title
In attendance at the game was Virginia Tech's head coach, Seth Greenberg, who was there to give Mr. Vernon's Isaiah Cousins' a scholarship offer to play for him next season.
Starting point-guard Quadere Lovell could not play because he was required to serve a one- game suspension after being ejected when the Knights played against Mamaroneck on Saturday.
With all of this in mind, the Raiders entered the game with nothing lose. After 45 seconds of play the score was 2-2, with Isaiah Cousins and Aleks Larsen trading buckets. Sadly for the raiders, this would be the last time all game that the score would be tied. The first half was highlighted by an emphatic dunk by Mount Vernon's Randy Stephens over Scarsdale's Andrew Crean. By the end of the half the score was 45-9.
The second half went slightly better for the Raiders, and they were also able to get good experience for everyone on their roster. The final score of the game was Mount Vernon 79, Scarsdale 26. Brandon Martin of Mount Vernon led all scorers with 17, and Cousins was able to score 14. Peter Simon led the Raiders in scoring with 6.
Now the focus is turned to the Raiders' final game of the regular season against Mamaroneck at home on Friday at 4:15.
BLOG COMMENTS POWERED BY DISQUS