Raiders and Tigers Face off at SHS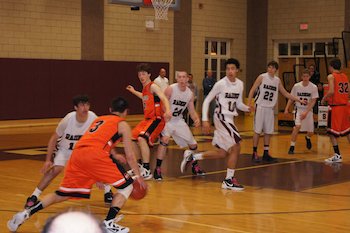 Spirits were high at the Scarsdale High School gym on Friday February 9 when the Raiders met their chief rival, Mamaroneck, for the last game of the regular season. Senior Night drew large crowds from Scarsdale and Mamaroneck who screamed, jeered and cheered throughout a very intense game. The Raiders lost to Mamaroneck after a 10-point 4th quarter comeback last week so a close matchup was anticipated.
Unfortunately for the Raiders they were not able to close the score gap all game. The first quarter ended at 6-11 in favor of the Tigers and by the end of the second quarter Mamaroneck solidified their lead with Scarsdale trailing by 12 points at 18-30. During the second quarter, junior point guard Alex Squadron injured his ankle and was escorted off the court.
In the third quarter the score spread narrowed when Scacchi scored a three pointer followed by two more from junior Jon Cohen. Also during the third quarter, junior Jack Hewitt received his 4th personal foul and was replaced by Alex Schwartz. At the buzzer for the third quarter, the scoreboard stood at 33-43.
The fourth quarter was marked by repeated fouls – with the clock stopping often.
Despite a great performance from Greg Scacchi who was the Raiders lead scorer with 17 points, Scarsdale never managed a rally and the game ended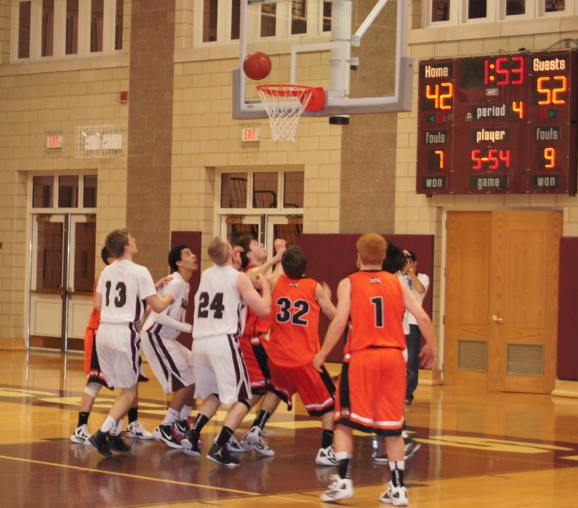 at 57-48. Mamaroneck's matchup zone was just too tough to penetrate. With Squadron injured, the Raiders had a tough time guarding Mamaroneck's all-section senior point guard, Matt Mezansky. Mezansky ultimately had 24 points, 5 rebounds and 5 assists, leading the Tigers to a victory on the road. This caps off a great week for the Tigers, who earlier this week upset both White Plains and New Rochelle.
The regular season ended with Scarsdale at 5-12 and Mamaroneck with a 12-6 record. Scarsdale will likely play at North Rockland in the first round of the playoffs, and if they win then they will travel back to 100 California Road to face off against the number 1 seeded Mount Vernon Knights, at their home gym. Mount Vernon went 12-0 in Section 1 this season, winning their games by an average of 32.9 points per game. None were closer than 25.
Seniors and their parents gathered for a picture to commemorate the 2011-12 season, and here they are, courtesy of Cathy Hewitt.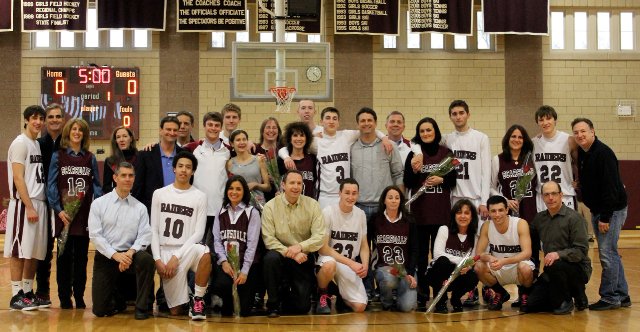 BLOG COMMENTS POWERED BY DISQUS