Raider Wrestlers Excel in Sectionals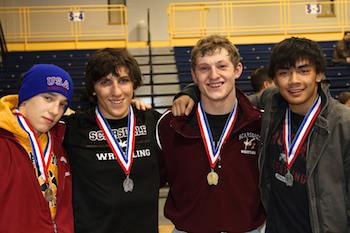 As the season was winding down for many winter athletes the Scarsdale wrestling team was gearing up for the most anticipated weekend of the season. With all of the Raider seniors qualifying for the Sectionals, there was a lot of energy heading into the two-day tournament. Many of Scarsdale's wrestlers were slated to finish high at the top, and when the big weekend came, they put on a spectacular performance.
The tournament got underway on Saturday 2-11 at Clarkstown South at 11 am after snowy weather caused a two-hour delay. In the lower weights at 106 pounds, freshman Robbie Keltz fought hard in both of his matches but fell short of a win. Head Coach Barney Foltman was proud that Keltz made it to the sectional tournament as a freshman and looks forward to working with him for the next three years. Along with Keltz, Junior Mikey Hodges was unable to secure two wins for the day, but expectations remain high for this highly-skilled 113 pounder for his senior year. In the 126-pound weight class, senior Dan Jureller put on an impressive performance by dominating the 5th seed 12-7 in his first round match. Jureller eventually lost in a thrilling overtime match to Brewster's Tommy Gonska, 14-16. Seniors Chen Shen, Adam Meyer, and captain Brian Hackel demonstrated strength in their respective weight classes but came away empty-handed. These seniors have had a tremendous season and scored big victories for the team in previous dual meets.


Throughout the sectional tournament the spotlight fell on a few of the Raiders' standouts. It seemed apparent that senior captains Jack Braun (170), John Tambunting (132), and Jacob Berkowitz (182) would dominate the first day of the tournament and advance to the second day at Pace. Along with these highly respected contenders, Joseph Koshakow (138) also distinguished himself. The junior battled his way through a competitive weight class (with an intimidating haircut) and came out to place 6th in the section. The future seems bright for this junior who fought hard both days, and established himself as a top name for next year. Seniors Braun, Tambunting, and Berkowitz worked their way up through their respective weight classes and found themselves with a chance to secure a sectional title. Jack Braun, failed to place top 6 in last year's sectional tournament had a lot to prove in the second day of matches. The Dartmouth-bound senior put on an impressive performance but fell shy of the title, losing 4-2-in an overtime match and taking second place. John Tambunting, who placed 5th at last year's sectional tournament, took it to the next level by placing second in this year's tournament, falling to state-finalist Dan Ventura of Fox Lane in the finals. The heavy arena crowd seemed to favor underdog Tambunting, who proved to have the ability to make it far into the tournament.
Senior Jacob Berkowitz was a favorite to win his second consecutive sectional title. He did not disappoint his coaches or teammates and dominated his way through the tournament. In his final match he picked apart his opponent with ease. With two sectional titles under his belt, Berkowitz now looks to finish his triumphant senior year with a state title. He has been training hard and practicing two times a day for the state tournament in Albany.
Overall, the Raiders placed eight out of 42 teams in the section. With a heavily loaded senior class leaving, however, the team will work on building up a new squad while maintaining their tight camaraderie.
(Photo Credit: Leslie Berkowitz -- see more photos here)

BLOG COMMENTS POWERED BY DISQUS