Maroon and White Celebrates Scarsdale Athletes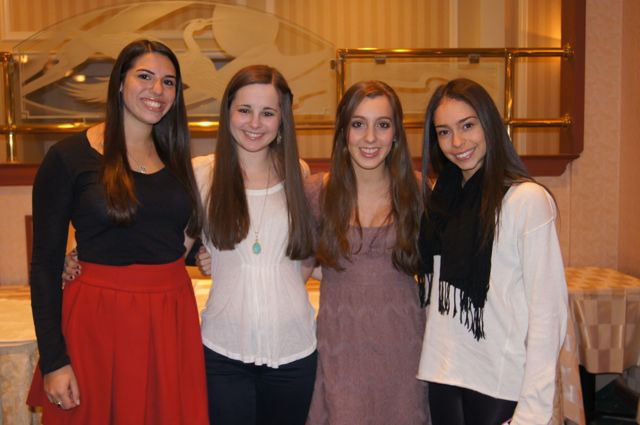 The Maroon and White winter awards dinner was a big success at Lake Isle Country Club on Tuesday night March 6. About 660 parents, student athletes, coaches and administrators were on hand to celebrate the achievements of Scarsdale students in gymnastics, ice hockey, cheerleading, wrestling, basketball, swimming, track, skiing and bowling. Highlights of the season included the boys' ice hockey team's participation in the Section 1 finals and senior Jacob Berkowitz's success at the state wrestling final in Albany where he placed second in his class.
Perhaps the biggest surprise of the night was the absence of Lake Isle's famous chicken parmesan dinner – this year, much to everyone's surprise, the menu featured Chicken Milanese!
Congratulations to the athletes, Maroon and White Presidents Charlotte Carr and Liz Whitney as well as the entire board. Below please find photos of the graduating seniors and team records and individual awards.  (pictured above: Senior Cheerleaders)

Here are the season's records for each team as well as individual awards from SHS Director of Athletics Robert Siracuse:
Boys¹ Basketball (6-13)
All-League: Greg Scacchi
Honorable Mention: Jack Hewitt
MVP: Greg Scacchi
Most Improved: Jack Hewitt
Casey Ferrone Memorial Award: Jeff Schwartz
Joseph Ades Memorial Award: Jordan Elkins
Girls¹ Basketball (10-9)
All-League: Shelby Zucker
All-Section Honorable Mention: Shelby Zucker
Boys¹ Bowling (53-45)
Girls¹ Bowling (34-57)
Cheerleading
UCA Nationals Qualifier
All-American: Lauren Wang
Gymnastics (1-7)
All-League: Sophie Bernstein
Honorable Mention: Emma Bernstein, Dannah Strauss
MVP: Emma Bernstein, Dannah Strauss
Most Improved: Caroline Kristof
Best Sportsmanship: Maya Pochiraju
Ice Hockey (15-9)
Section 1 Division 2 Finalists
All-League: Connor Wolfe
Honorable Mention: Hunter Jurman, James Nicholas
All-Section: Connor Wolfe
Section 1 Division 2 Coach of the Year: Jim Mancuso
Section 1 Conference 2 Coach of the Year: Jim Mancuso
Leading Scorer: Hunter Jurman
Most Improved: Stuart Hindmarch
POW Big Hits Award: Sam Blakley, Rob Burns
Best Defensive Defenseman: Rob Burns
Best Defensive Forward: Devon Schell
Bruce Black Award for Leadership: Travis Misarti, Will Seider
Peter Shaw Award: Ian Klein

Boys¹ Skiing (8-2)
All-League: Nick Brechtel, Jason Luski, Takane Shoji
MVP: Takane Shoji
Most Improved: Josh Winward
Best New Skier: Nick Brechtel
Dedication to Dryland: Dewan Thenmalai
Girls¹ Skiing (5-5)
All-League: Julia Mayer, Melanie Norman
MVP: Julia Mayer
Most Improved: Ali Whitney
Best New Skier: Maggie O¹Keefe
Dedication to Dryland: Melanie Norman
Boys¹ Swimming (10-0)
League, Division Champions
All-League: Michael Lu, Sivan Mehta, Matt Ginsberg, Carter McFarland,
Charlie McFarland, Daniel Needham, James Frehill, Evan Moretti
All-Section: Michael Lu, Daniel Needham
State Qualifiers: Daniel Needham, Charlie McFarland, Sivan Mehta, Michael
Lu, 400 freestyle relay (Sivan Mehta, Daniel Needham, Matt Ginsberg, Michael
Lu), 200 medley relay (Sivan Mehta, Charlie McFarland, Carter McFarland,
Michael Lu). Note: At states, Matt Ginsberg subbed in for Lu in the 200
medley relay, Carter McFarland for the 400 relay.
MVP: Michael Lu
Coaches Award: Austin Serling
Boys¹ Track & Field
All-League: 4x800-meter relay (Ben Newman, Eric Dobosh, Kazuya Seki, Nick
Chan)
All-County: Patrick Clarke (55-meter high hurdles)
Girls¹ Track & Field
All-League: Helen Clapp (3,000-meter), Lillian Foote (high jump)
All-County: Lillian Foote
All-Section: Lillian Foote
County, Class A, Section Champion: Lillian Foote (high jump)
State Qualifier: Lillian Foote
Wrestling (8-5)
All-league: Mikey Hodges, Joe Koshakow, Daniel Jureller, John Tambunting,
Jack Braun, Jacob Berkowitz, Chen Shen, Brian Hackel
All-Section: Jacob Berkowitz, Jack Braun, John Tambunting
All-State: Jacob Berkowitz
Section 1 Finalists: Jack Braun, John Tambunting
Section 1 Champion: Jacob Berkowitz (182 pounds)
State Finalist: Jacob Berkowitz
100 career wins: John Tambunting (117-31), Jacob Berkowitz (135-19)
MVP: Jack Braun (42-4; 82-20 three-year career), John Tambunting (39-6)
Most Improved: Daniel Jureller, Mikey Hodges
Most Outstanding: Jacob Berkowitz (51-3)
BLOG COMMENTS POWERED BY DISQUS