Winners Announced in the 43rd Annual Scarsdale 15K/4Mile Runs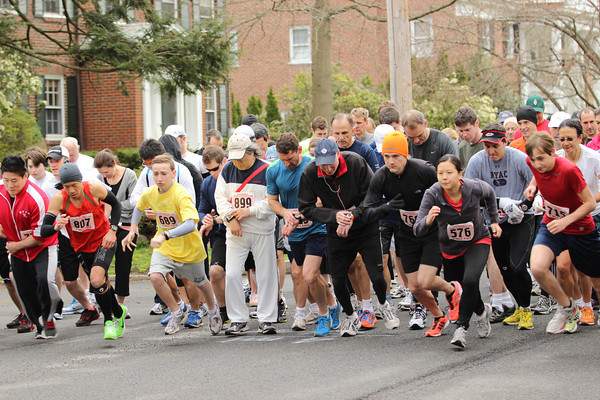 The weather was cool but dry for the Scarsdale 15K and 4 mile runs on Sunday April 1. The race began on Brewster Road and continued through Fox Meadow and Greenacres where streets were closed off to accommodate the runners and water was distributed along the way.
Participation was good, with 199 runners finishing the four-mile run and 149 completing the 15K. For the 1 mile Kids Fun Run, 65 children ages 12 and under turned out.
The Scarsdale 15K and 4 Mile runs were conducted by the Scarsdale Parks and Recreation Department and co-sponsored by the Scarsdale Antiques Running Club.
The Race is the longest running race in Westchester County.
In both races, awards were given to the overall male and female winners and for the first three finishers in the following male and female
groups: 14 and under, 15-19, 20-29, 30-39, 40-49, 50-59, 60-69, and 70+. Team awards were also given in the 15K for the first three teams in male (50+) and female (40+). In addition, for the 15K race, there were awards for the first Scarsdale winner, male and female.
For the 15K race, the overall male winner was Russell Cruz and the top male finisher from Scarsdale was James Pilchik. For the women, the overall female winner and first Scarsdale female finisher was Jana Trenk. In the 4-mile race, the men's winner was Sherman Lau and the women were lead by Leota Branche.
A complete list of winners in all categories is available here.

Bagels, water and coffee were available for the runners with coffee courtesy of Lange's Deli. Congratulations to all the runners and thanks to everyone who helped make the race possible.
Pictured at top: 4 Mile Race Start. Photos provided by the Scarsdale Recreation Department.
BLOG COMMENTS POWERED BY DISQUS