Lauren Takes Leave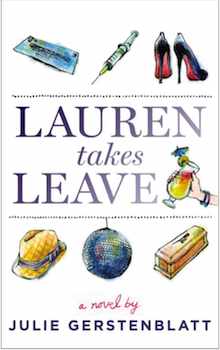 Looking for some beach reading? Scarsdale's Julie Gerstenblatt has just published her first novel on Amazon , and it's the perfect vacation escape at just $4.99 per download. Lauren Takes Leave is about a stressed-out working mom with an absentee husband and a pre-occupied babysitter. So what does she do? She takes a vacation making this a good one to take on your vacation.
Here's a description of the plot:
Wife, mother, and middle school teacher Lauren Worthing needs some time off from her busy, suburban life. So when a jury duty summons arrives, it creates the perfect alibi for ditching her slightly unfulfilling career, slightly spoiled children, slightly absentee husband, and slightly criminal babysitter.
With uninhibited friends like Jodi Moncrieff and Kat O'Connell by her side, Lauren takes leave of her senses and embarks on a weeklong pleasure bender.
From the chilly exam room of a local dermatologist's office to the marble master bathroom of a suburban McMansion, Lauren explores deep, probing questions that come with middle age and upper middle class complacency. Questions like, who is she, really? And, why didn't anyone tell her not to pole dance in Louboutins? Before the week is over, Lauren and her friends have moved far away from the chick-lit stereotypes they've become and closer to the lying, cheating, stealing bad-asses they didn't know they'd ever want to be. Lauren Takes Leave is a riotously funny tale of women on the verge.
Gerstenblatt's first book came out on her birthday, July 3rd, and so far the response has been great. She spent the holiday at the Scarsdale pool and was thrilled to find people already reading her book on their Kindles.
Gerstenblatt hired her own editor and got help for the cover from her husband who is an art director. Designer and friend Gary Chews and illustrator Liz Starin produced the book jacket that is based around clues from the story with an object for each day of Lauren's vacation week

Check it out here: and when you click "Look Inside" you can sample the first few chapters.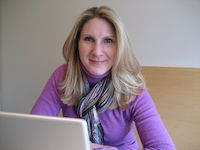 Columnist, blogger and author Julie Gerstenblatt writes with humor and candor about her life in Scarsdale, her friends and family, and the particular demands of motherhood and wifedom in modern-day suburbia.
BLOG COMMENTS POWERED BY DISQUS