The Thrill of Victory and the Agony of Defeat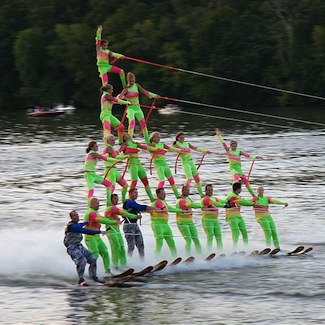 My 10-year-old son, Andrew, attended sleep away camp this summer for the first time. He returns this Sunday, Aug 12th, and, by all accounts, he had a blast. Right from the start, every letter was positive, every phone call upbeat, every image of him on the camp website full of smiles.
"I love how they always have their arms around each other in the group shots," my mom commented.
"I know, so cute," I agreed. He was growing up right before my eyes.
The first time Brett and I talked to him, we noticed that Andrew's voice was raspy. "Are you sick?" I asked. "You sound like you have laryngitis."
"Nah, I'm fine," he said, clearly sounding hoarse. "We had a color chase last night and we screamed a lot. The greenie meanies were after us!"
"Well, maybe you should just rest your voice today," Brett added from the other cordless phone. We stood next to each other in the kitchen, each armed with our own telephone, so we could all talk together.
"Maybe gargle with salt water," I suggested. "Or go to the health center for a cough drop."
"Yeah, yeah, okay, okay," he said. He definitely wasn't going to do anything about his voice. This kid was humoring us, we knew, and we were babying him, we knew. But we have roles to fill in life and we fill them: the worried parent, the happy-go-lucky-camper.
On visiting day, Andrew looked great. His voice was still a bit scratchy, but that was to be expected because they had just had a song competition and a sleep out and a sneak out and because he had just dropped from the sky on the ropes course. There are apparently many things to yell about in the middle of Pennsylvania.
With about 10 days left at camp, I got a call from the camp nurse. Andrew had a fever of 101.4 and had spent the night in the health center. "Can I talk to him?" I asked.
"Sure!" she said.
"Hi, Mom," he said. "I had a headache two days ago and yesterday it got worse and so I came here and they told me I had a fever and they gave me medicine and I had to stay."
"Oh, poor you!" I said.
"No, it's really fun! I watched five movies. One of them was Austin Powers!"
Austin Powers?
Now, personally I think Austin Powers is hysterical. But I quickly tried to remember if it is an appropriate movie for kids or not. Which one has Fat Bastard and Mini Me? In which one does he lose his Mojo? When do we meet Goldmember?
Oh, what the heck, I decided. The camp probably knows which DVDs to show to feverish 10 year olds.
My child was sick in bed, and I couldn't see him, I couldn't hug him, I couldn't kiss his forehead or give him Jell-O. I took a deep breath. Instead of being too motherly or overprotective, I responded to the news of Austin Powers with "Yeah, baby!"
"I got to go to campfire last night and we had another fake out for the camp Olympics!"
"That's great! I hope you sat far away from everyone else!"
"And we eat Pop Tarts in the health center!" he said.
"Good for you!" I answered. "Now, can I speak to the nurse?"
The nurse told me that they hoped Andrew would be out at lunchtime since he hadn't had a fever since yesterday, but that, should it go back up over 100, he'd have to stay another day.
When I debriefed with Brett later that day – both of us former campers -- he and I came to the same worried conclusion. "There's only nine days left in camp," Brett said.
"I know."
"And they've already had two fake outs," he added.
"I know!" I said.
"Call the camp back and ask them if Andrew will be well enough to watch the Olympic break out," he said. "The kid has been waiting all summer for it and he can't miss it."
"I know!"
Now, hoping that your child gets well is good parenting. Hoping that your child gets well so he can see fireworks explode as a helicopter lands on a raft in the middle of the camp's lake or whatever is perhaps lacking in paternal maturity.
But we wanted it for him so badly.
Plus, Andrew had been training for this moment for the past six weeks. He was in peak camp spirit mode. He just had to make it to the Olympics.
Also, we'd been watching the real Olympics on television. We know that athletes battle injury, some competing with broken bones, others taped up to basically keep their ankles and rotator cuffs attached. Athletes do not back down when the going got tough.
It was sunny Saturday. A perfect day for a camp to begin their Olympics. I called back and asked to speak to the camp nurse just one more time.
We were his loving, doting parents. We'd be damned if a little thing like a highly contagious virus would keep our firstborn child from his first Olympic games.
Lucky for me, the nurse seemed to understand my concerns without me actually having to beg with the words "please let my son out of the infirmary for break out."
"I know that you know that certain fun events might be happening here at camp today," she said, in a stage-whisper of a co-conspirer. "And I promise you that we will make sure that Andrew and the other children here will not miss out on anything, if today were to be an important day at camp."
"I love this camp!" my mom responded when I told her the news. Unfortunately, Andrew's fever did not abate. The call came at lunchtime
saying that an antibiotic was given to clear up his sinus infection.
"Can I speak to him?" I asked. I was really milking this phone call thing at the health center. I passed the phone around to my mom, Zoe, and Brett.
"I think you are going to be mad," he said. "I watched the fifth Harry Potter movie."
"Oh no," I said.
"I know that Serius Black dies."
"Oh, no!" I said. Things were worse than I thought. "But will you still read the rest of the books with me?"
"Yeah," he said. "And, guess what? The Olympics broke out! Professional water skiiers came and I got to watch from a golf cart with the other kids from the health center. I'm on the white team!"
"That's awesome!" I said, thinking it sounded very much like the spectacle in London.
"Oh, and Mom, I started my medicine and I feel normal again. I get to go back to my bunk tonight."
"Hooray!" I cheered. Andrew would return to the Olympic village in time for the all-inspiring rope burn competition.
Now, Go White!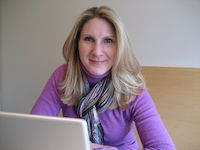 Columnist and blogger Julie Gerstenblatt writes with humor and candor about her life in Scarsdale, her friends and family, and the particular demands of motherhood and wifedom in modern-day suburbia. She recently published her first novel, Lauren Takes Leave.
BLOG COMMENTS POWERED BY DISQUS