Into the Wild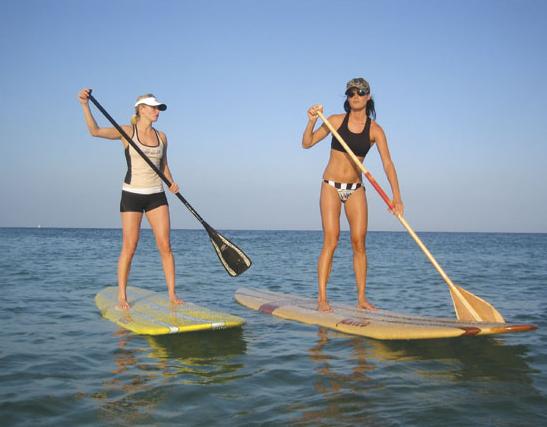 I have written these words before, but I'll write them again: I am not what you'd call athletic. I lack hand-eye coordination and any desire to move fast, except to avoid danger. This is pretty true in all seasons, including my favorite, summer. Beach volleyball? A jog on the packed sand? A swim, perhaps? My family asks, looking down at me in my lounge chair. I've got the umbrella set up, a baseball cap on, and have just located my reading sunglasses in my bottomless tote.
No thanks, I tell them, I'd prefer to sit on the beach and read 150 pages of a novel than dive through the ocean waves. You go have fun.
But then I would imagine my kids growing up and thinking back to summers of their youth, remembering me as the oceanfront ghost. "Mom came with us to the beach, right?" They would ask each other, gray haired, sitting by some fire and telling their own children and grandchildren about me. "I guess," Zoe would shrug. "I think she used to hand me money for ice cream every once in awhile. But maybe that was dad."
One reason I got off my butt this summer is to change the course of that future narrative. I needed to start building a more active legacy. Not just for my children to talk about when I'm long gone, but so that I would create experiences for myself now as well. Those tales written by authors that I read on the beach don't quite count, even if they are compellingly real to me.
And so I decided to paddle board.
"I can't believe you are doing this with me!" My friend Allie said. We were at the beach in Old Greenwich, where we had just rented two paddle boards for an hour. We received some vague instructions from one of the teachers there about how to paddle board ("Kneel on the board until you feel confident enough to stand up, at which point, you stand up. And then you paddle, and that's pretty much it.") and then we were almost ready to go.
Before zipping us into our life jackets, the guide hesitated. "I've got to tell you, by law, that you are not supposed to go swimming today, due to the environmental hazards of runoff."
"Is that bad?" I asked.
"Yeah," Allie said, sounding disappointed. We all let that sink in. Then she turned to the guy. "But, it's not a problem if we don't fall in, right?!"
"Right!" he said. He relaxed and we zipped up. "But," he said, "it's pretty rough out there right now. Strong headwinds. It will be hard to paddle, and it may be hard to stay on the boards."
"We'll stay on the boards!" We promised.
Only once I was out in the water did I realize that it was a promise I might not be able to keep. I couldn't figure out how I was going to stand, with both feet tucked under me as they were. But Allie had paddle boarded once before. I watched her stand successfully, and then, because my knees were killing me, if not because of my bravery, I decided to do it as well. "I'm up! I'm up!" I called out, since she was now ahead and couldn't see me.
"Yay!" we cheered into the strong headwinds and over the rough surf.
I was shaking like a leaf, but I was standing. Walking across the water. It was beautiful.
After about three minutes, the shaking in my legs ceased and I felt stronger. But I wasn't really satisfied. My feet seemed too close together on the board, and I thought that with a stronger stance, I'd feel more confident, so I inched my front foot up a bit. And that's when the world went sideways.
"I'm going to fall!" I shouted.
"No you're not!" Allie called over her shoulder.
I imagined myself covered with pesticides and surrounded by sharks, my recently blown-dry hair a complete mess. I could not fall!
I was like a Weeble. I wobbled but I did not fall down.
Phew.
"I didn't fall!" I told her, my movements a running commentary.
"Who knew you were so sporty?!" Allie asked, a few minutes later, as I came up beside her. Shows you how little faith my friends have in me, and/or how well they know me, depending on how you look at it.
"I'm not sporty, Al. But...I'm water sporty!"
I then proceeded to tell her about my summers spent at camp in Maine, the waterfront my only real joy. "I'm a Red Cross expert sailor."
"No!"
"Yes! The sailing teacher took me and my friend Abby to Sebago Lake where we had to commandeer our own boats and capsize them and right them again."
"Who knew?"
"And, I'm a diver. Inwards, back and front flips...." I trailed off, letting her be impressed. I decided not to tell her about the last time I did a backflip, at the Scarsdale pool with Brett and Andrew watching, about 8 years ago.
I emerged from the depths and looked at Brett, smiling in anticipation of his awe. "Yeah. You aren't allowed to do those anymore," he said.
And that was it. My career as a diver was over.
But now I had a new watersport. I had paddle boarding.
Which made me want to try kayaking.
Tune in next week to read all about it.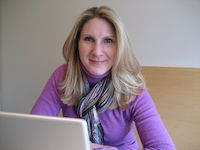 Columnist and blogger Julie Gerstenblatt writes with humor and candor about her life in Scarsdale, her friends and family, and the particular demands of motherhood and wifedom in modern-day suburbia. She recently published her first novel, Lauren Takes Leave.
BLOG COMMENTS POWERED BY DISQUS