How to Tell If You or Someone You Know Is Insane from School Musical Volunteerism
I am writing this during the most hectic week of my life, the second week of rehearsals for the elementary school play. I have been cast as a co-chair of the school play this year, and, as a method actress, I like to fill my role completely. That is why I have dropped everything, everything for my craft.

I'm like Anne Hathaway as Fantine. I'd cut off all my hair and extract a tooth, if anyone on the PTA were insane enough to ask me to do it. That's how committed I am to this production of Bye, Bye Birdie.

During production, I do not have any sort of a life outside of what happens in the school gym, which means I have to write this article frantically and in secret.
I am so into the whole thing that I call these two weeks "production."

Because I am never allowed out and I must be silent while I write, I'm the Anne Frank of volunteerism.

I mean, if word ever spread that I had smuggled a laptop into the elementary school and was writing a humorous essay during this sacred time of play rehearsal, the school board might kick me out and have me redistricted, perhaps to a horrible place, a place without a school play. And then what will become of my performance-loving children? That cannot be.

And so I only click-clack on the keys while the chorus of 90 are singing the big company numbers, which drown out the sounds I make when I laugh from rereading my own pathetic attempts at joking.

If you or anyone you know or love has ever run a school production, volunteered for such an endeavor, or been in charge of costumes, props, or tech for a school play, then you know just how insane I am right now. But, in case you aren't sure if this is you or not, here's a little quiz to take. If you can answer 'Yes' to three or more of these statements, then you have experienced School Musical Volunteer Insanity.
1. I haven't slept in three days because, when I try to sleep, lyrics from Bye, Bye Birdie (or insert name of other musical here) run through my mind in a compulsive loop that makes me friggin' batty. ("Did they really get pinned? Did she kiss him and cry? Did he pin the pin on? Or was he too shy?") The fact that my husband is sleeping soundly next to me seriously pisses me off.

2. I think I told everyone everything there is to tell, say, or do, but I can't remember now because there is just so much to tell, say, and do.

3. Last week I got a trickle of emails from my friends about lunch plans and play dates, but this week, I am getting 30 emails a day from different parents asking me if it's okay that their children wear off-white socks instead of white as per costume requirements. If I say yes, I'm a sock fairy, and everyone's hero. No means I'm a complete bitch.

4. I have not made dinner for over a week.

5. I have accidentally offended at least two individuals, been misunderstood by five others, and strained what was previously a good friendship, all in the name of helping out the school.
How did you do? I hope you scored a 3/5 or higher! Now, here's the tricky part. This quiz has a second section. Same rules. Here it is:
1. I enjoy teaching my children the musical numbers during dinnertime and I love hearing them break into song in the car or at a random place like a Chinese restaurant. (Long story.)

2. I have been working with such nice volunteers and have had fun in the way you have fun when you are pulling an all-nighter with friends in college. You are bleary eyed and crazy, but it's all good in the end when you ace the test. (Or, in my case, get a solid B plus.)

3. The emails aren't really that bad. I just made them sound that way above because I like to exaggerate and complain. In truth, it sort of makes me feel useful and important that so many people are emailing me about socks! My opinion matters!

4. I LOVE not making dinner!

5. And I LOVE the way a play comes together, just the way it should, for better or worse, for richer or poorer, in good weather and in sleet, so help me Conrad. I get to play an active role in my children's memories of elementary school, and for that, in the end, I can only do one thing and, yes, I'm going to say it...Put on a Happy Face.
Break a leg, everyone!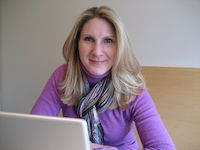 Columnist and blogger Julie Gerstenblatt writes with humor and candor about her life in Scarsdale, her friends and family, and the particular demands of motherhood and wifedom in modern-day suburbia. Read about her new book Lauren Takes Leave and keep up with the latest from Julie Gerstenblatt here.

BLOG COMMENTS POWERED BY DISQUS