Mambo 64: For Tapas in Tuckahoe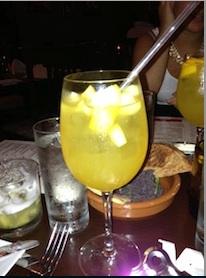 On the prowl for tapas on a steamy Saturday night, we repeatedly called Bistro Latino in Tuckahoe but got no answer. We tried OpenTable and couldn't find them there either. So we decided to drive by to see if we could sit at the bar. However, when we made our way to 64 Main Street in Tuckahoe we were surprised to see that Bistro Latino was gone – and in its place was a sign for Mambo 64 –- now what was that?
Puzzled, my husband sat in the car while I peeked into the window and saw that the décor had not been changed and there were plenty of people inside. We decided to venture in and were greeted by the attractive and cheerful proprietor who explained that Bistro Latino had decamped to larger quarters in Larchmont – and is now called Palomino, for Chef Rafael Palomino who also runs Westchester favorites Sonora and Pacifico.
Their move was her gain as former teacher and foodie Arlen Gargalian took over the location to launch her first restaurant, Mambo 64. With Chef Stephanie Landis heading the kitchen, the menu offers the best of Bistro Latino with some tasty new dishes of their own.
The fare is decidedly Spanish, with a long list of tapas to sample and share. But first, the drinks. What an appealing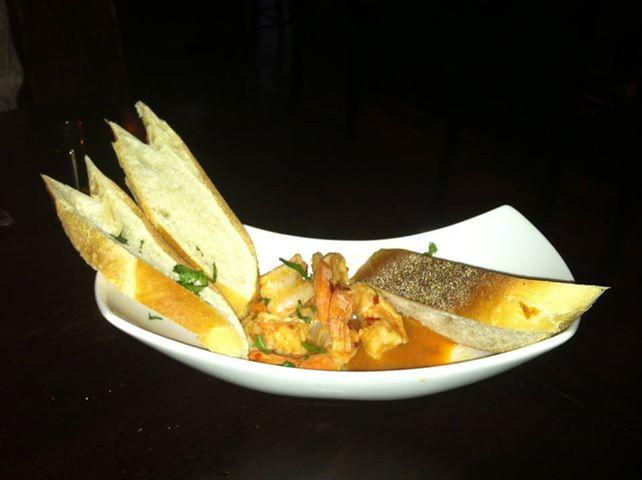 cocktail menu! The fruity concoctions were the perfect antidote to the heat wave and we were hard pressed to decide between the white mango sangria, mojito, the hurricane (rum, passion fruit, pineapple and orange juice, plus lime) or the Belize cocktail – (coconut rum, meddled pineapple and juice).
Since we were a party of four, we decided to taste as many tapas as possible. Our first choice was the Gambas Al Ajillo – sautéed shrimp pictured here. These were delectable and we should have opted for two orders. We followed those with Arlen's Guacamole which included grapes and pecans, and also tried the roasted asparagus with romesco sauce and carnitas, which is slow braised port on corn tortillas. The salmon, mango and roasted pepper ceviche was fresh and flavorful as well. Everything arrives quickly and was made to order.
Mambo 64 also offers larger "Platos Fuertos," and we opted for the chimichurri-marinated hanger steak and Arlen's signature jerk chicken. Both were spicy and irresistible.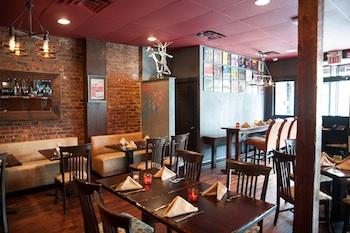 Arlen herself stopped by to chat with us and helped us navigate the menu. Soon she was exchanging Spanish pleasantries with my daughter and reminiscing about her college experience as an exchange student in Barcelona. Influenced by her time there and in Peru, Gargagliano is the author of two cocktail/tapas books and also taught English as a second language for 20 years before launching her career as a restauranteur. She is warm, upbeat and approachable and made everyone at the restaurant feel as if they had been welcomed into her home.
For now, it's possible to find a table at Mambo 64 so I suggest you try it soon before the words gets out. Tell Arlen Scarsdale10583 sent you.
Mambo 64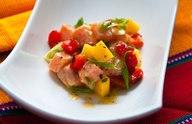 64 Main Street
Tuckahoe, NY 10707
914-222-9964
http://www.mambo64.com
Hours:
Dinner: Tuesday-Thursday 5-10
Friday and Saturday: 5-11, Sunday: 5 to 9
Lunch: Tuesday-Thursday: 11:30-2:30
Closed on Mondays— except for special events
BLOG COMMENTS POWERED BY DISQUS