Food and Wine Festival Brings Thousands to Scarsdale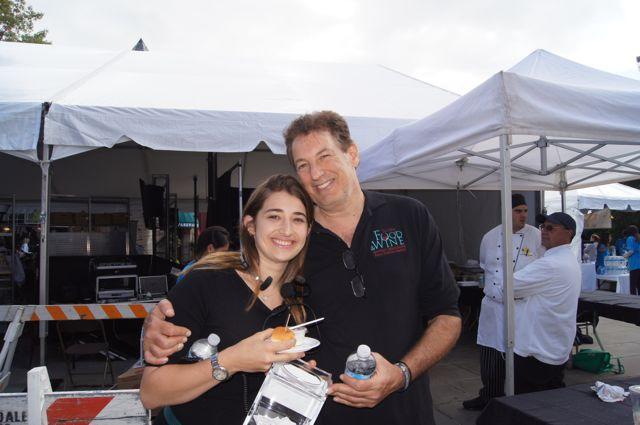 Who doesn't like to eat? That's how one happy gourmand explained the amazing turnout for Scarsdale's first major festival on Sunday September 22. Though heavy rain and wind on Saturday night threatened to put a damper on the event, Sunday dawned bright, cool and clear as hundreds of volunteers and vendors set up for the large crowd that was expected that day. Prepared for any weather, the producers arranged for extensive tenting running the full length of Spencer Place, Boniface Circle and a good portion of Chase Road. The canopy was clear in portions to let in the light and the tents helped to shield the hundreds of food and wine purveyors from the elements. It disappeared as magically as it appeared leaving everyone wondering whether they had imagined this wonderful Sunday in Scarsdale.
No one could imagine how Scarsdale could accommodate thousand of visitors and their vehicles. How would they get here and where would they park? Furthermore, the Bronx River Parkway was closed for bicycle Sunday. Would that be an impediment to visitors or would bikers flock to the fair? However, the organizers arranged for drivers to park at numerous garages and parking lots where they were taken to the fair by shuttles that circled continuously. In fact, we didn't hear a single complaint about traffic and many locals decided to walk or bike to leave available spots to visitors.
We can't begin to quantify the variety of food and drink that was offered at the festival. Steak, sliders, salad, crostini, pizza, twinkies, ragout, pulled pork, pasta, chicken tikka, fresh oysters, paella and sushi were just some of the foods we saw and sampled as we paraded up and down the length of the tents. Both established restaurants and some just in the planning phases were on hand to meet potential customers and offer tastings from their menus.
While some ate, others purchased wine tickets and a glass to hang on a lanyard on their neck. The bacchanal on Boniface Circle was "adults only" as wine and beer were poured into partyers glasses.
And there was more than food and drink. Celebrity chefs David Burke and Rafael Palomino gave cooking demonstrations on the large stage that was constructed at the end of Spencer Place and East Parkway. There was an impressive array of cookbooks that one could purchase and have signed by the author. New products such as Skinny Eats salad dressing were demoed and distributed.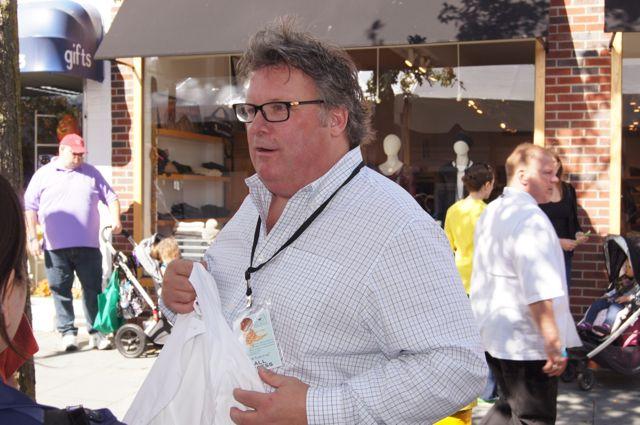 Other brands took the opportunity to simply hand out their products. We came home with a Polar soft drink and Dannon yogurt and would have taken more if we could carry it.
Visitors who had their fill of food and drink repaired to Chase Park for a live performance by the B Street Band – a Bruce Springstein look alike- who gave a first-rate rendition of the Boss's soundtrack. Kids did crafts, and grown-ups washed up at a beautiful booth from Meyers natural cleaning products.
Tired but exhilarated, Rich Baumer, who organized the event with his family said, "The overwhelming success of the SOWE festival, support from the community, and showcasing of four great charitable organizations, combined for a very special day in Scarsdale. Over 7,000 attendees enjoyed outstanding food, great weather, huge variety of wine and beer, fun music, chef demos and more. Over 100 merchants, sponsors and restaurants were busy all day distributing products, samples, prepared and packaged foods, coupons and special offers. As organizers, Casey, Stacey and I are thrilled that the months of hard work resulted in exceeding even our own high expectations. We are confident this will be the first of many similar events in Westchester County."
Scarsdale Chamber of Commerce President and former Mayor Carolyn Stevens said, "The Village government was incredible at working with us to make this a successful event. The police, firemen, sanitation workers and Village Manager's office were helpful and cooperative and planned a wonderful day. They problem-solved and worked cooperatively to pull it off. There were not traffic or safety issues and from the perspective of Scarsdale government it was a wonderful event. The Chamber of Commerce was pleased to see how many newcomers came to town to see what we offer. Hopefully they will return to eat, shop and use our professional services. "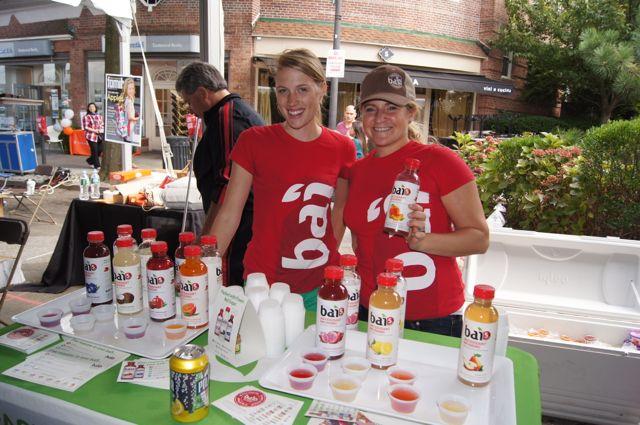 Everyone we spoke to was awed and amazed at the breadth of the festival. Smiling and surprised they greeted neighbors they had not seen in years and sampled food from all over the county. One friend turned to me and said hopefully, "will they be doing this again next year?"
We don't know the answer to that question now, but based on our experience we certainly hope this becomes an annual event.
(Picutred at top, Event Producers Casey and Rich Baumer)

Thanks to the following for a fabuous event:

HOST
Scarsdale Chamber of Commerce

EVENT PRODUCERS
Baumer Ventures, Inc. & Imagine Party & Events

PRESENTING SPONSORS
PePe Infiniti
Journal News

PLATINUM SPONSORS
Container Store
Dannon
Viking
Wilson & Son Jewelers

GOLD SPONSORS
Morgan Stanley
Scarsdale Medical Group

WINE SPONSOR
Zachy's

BEER SPONSOR
Captain Lawrence Brewing Company

SUPPORTING SPONSOR
Scarsdale Improvement Corporation

BEVERAGE SPONSORS
Polar Beverages
Bai Drinks
Vita Coco

SILVER SPONSORS
Fred Marcus Photography
GoCharge
Advocate Brokerage/Pure Insurance
Balducci
Big Green Egg
Cayman Islands Dept of Tourism
Coldwell Banker
Country Bank
DeCicco's
eTrade
Gaucho Grill
Houlihan Lawrence
JNJ Plumbing
John Boos
Julia B. Fee
Leafware
Mrs. Greens
Party Line Rentals
Red Oak Transportation
Sabra
Squeaky Wheel Promotion
Stew Leonard's
Total Entertainment
Verizon
Whole Foods
YogiBo
York Intl/Chubb
Empire City Casino
Douglas Elliman
Chef Johnson
Zoe Olive Oil
Scarsdale Dental Group


BRONZE SPONSORS
Aurora Nuts
Cabot Cheese
Edgeware
Mrs. Meyers
PIP Printing
Prudential Centennial
Restaurant Depot
Vitamin Shoppe
Eye Design

COPPER SPONSORS
Anolon
Fagor
Home Free Treats
Homerica Mortgage Corporation
Leicht
Lucy's
Med Foods
Nueske's
Pearle Vision
Plush Blow
Wusthof
Path Coffee
Present Food
Brooks Brothers
Seth Greenberg's Brownie Crunch


PRODUCT DONATION
Alo Drinks
Badia Spice
Beanitos
Choice Organic Teas
Corkcicle
Crispy Green
In the Raw
Pretzel Crisps
Weleda
34 Degrees
Charles Vinacin
Food Should Taste Good
Germstar
Godiva
Skinny Pop
Soapy Soap
Sunsweet
Taza Chocolate
Oasis Day Spa
Barbara's Cookies
Boylan Bottling
SBK Florist
Jerry Rose Florist
Skinny Eats
Michael Stars

CHARITIES
WhyHunger
Greyston Bakery
Don Bosco Community Center
Food Bank for Westchester

MEDIA PARTNERS
Hometown Media Group
News12/Cablevision
DailyMeal.com
WVOX
WFUV
The Loop
Westchester Family Magazine
WAG/Westchester County Business Journal
Epicurious.com
Scarsdale10583.com
Examiner Media
BLOG COMMENTS POWERED BY DISQUS