Will the Spin Crowd Flock to Flywheel?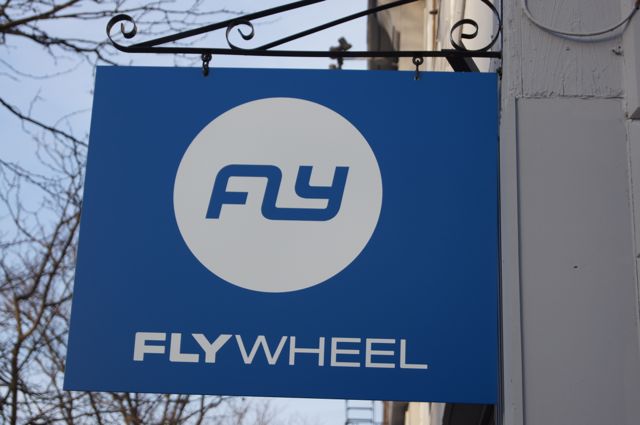 Attention Soul Cyclers: competitor Flywheel is set to open a major new facility just down the street. The Flywheel in Scarsdale will be the company's 26th site, and it will offer more than just cycling. The Scarsdale location will also have a FlyBarre studio, which is an intense body-sculpting class that makes use of light weights, dance, and core strengthening exercises. The routines are fast and fun, and constantly changing.
What's so special about Flywheel? The class is taught in the dark with a spotlight on the instructor. All participants have a good view of the instructor because the bikes are stationed on different levels. According to Alana Radmin, the press contact for Flywheel, Scarsdale's studio is set to have between 45-55 bikes. "Flywheel incorporates technology to make it the most effective ride," said Radmin. "You can see your torq and speed so you can set a goal, know how hard you're working, and track your progress from ride to ride," she added, "and you can follow your performance online." In fact, each bike monitors every rider's real-time performance data so that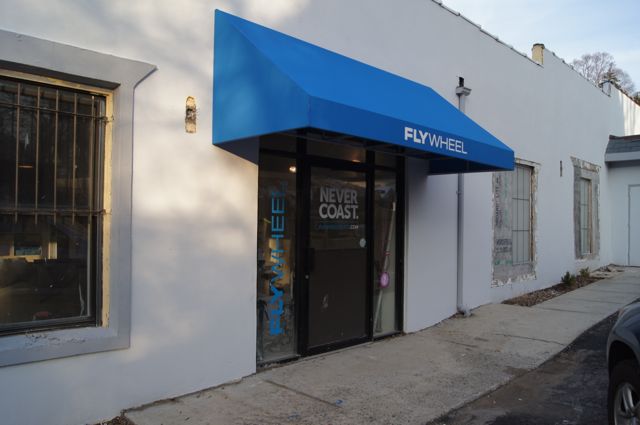 riders can accurately adjust their speed, resistance, and power. In addition, all FlyWheel studios have a Torqboard that displays riders' performance data. Although optional, bit does seem to add to the competitive nature of FlyWheel that avid riders praise as the best part of this indoor cycling studio. Music also adds to the overall experience at FlyWheel. Radmin said, "Your ride is professionally choreographed so you can ride to the beat of the music while getting a great workout."
Would a SoulCycle addict even try Flywheel, much less become a regular patron? Ophira Cukierman, a spin instructor at Will2Lose and the JCC as well as a devoted SoulCycler and Flywheeler, has had great experiences at both studios and emphasizes the attributes at both that keep her signing up for more. "They're both great, but very different," she said. "SoulCycle is very community oriented, meaning the SoulCycle community, and people love that. Flywheel is more intense ... it's about the competition, and a lot of people love that as well. It will be interesting to see if Flywheel attracts a different crowd," she added. "On the Flywheel bikes," she continued, "there's not a lot of room for cheating. Some people love that, others don't." She thinks Flywheel might make her work harder because she can actually see the work she is doing. For some, that's motivating.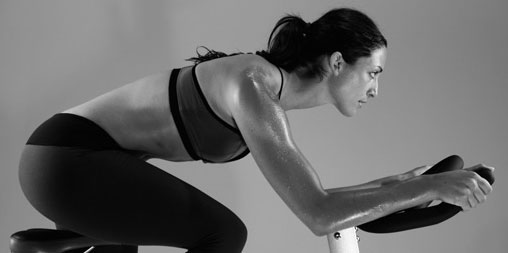 Others seem to prefer what Cukierman terms "perceived exertion," namely self-adjusting your bike's resistance to what is comfortable for you, the rider, based on the instructors suggestions. Another Scarsdale SoulCycler said, "I love SoulCycle. I've been doing it for 3 years and I love the workout. The combination of a dark room and loud, great music really allows you to be in your own world and push yourself." She did say she would likely test out Flywheel, adding, "I'm curious as to what the scoreboard's all about."
Are there any amenities included with the price of a class at FlyWheel or are there additional charges? The Flywheel Studio has showers and changing areas with full amenities and towels, filtered water, and complimentary cycling shoes. The bikes are well spaced so there's no rubbing elbows with the hairy, sweaty guy to your left (for example).
Flywheel is set to open for previews from January 24 through January 26th. Previews will allow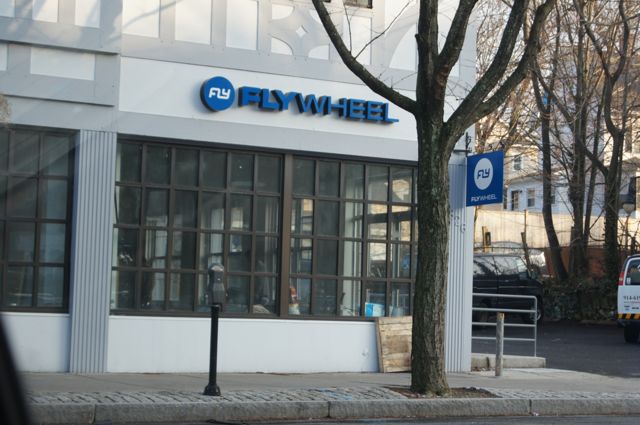 interested cyclers to try classes free of charge before committing. Classes will be $28 per class with discounted packages for 5, 10, or 20 packs. A monthly membership will be offered at the rate of $180/month for FlyWheel or FlyBarre, or $280/month for access to both. FlyWheel is located at 828 Scarsdale Avenue in the old Tumblebugs building. There is no word yet on what the exact parking situation will be, but there is a small, free, attached parking lot and ample street parking, both metered and free but time limited.
Flywheel
828 Scarsdale Avenue
Scarsdale, NY 10583
914-368-0024
www.flywheelsports.com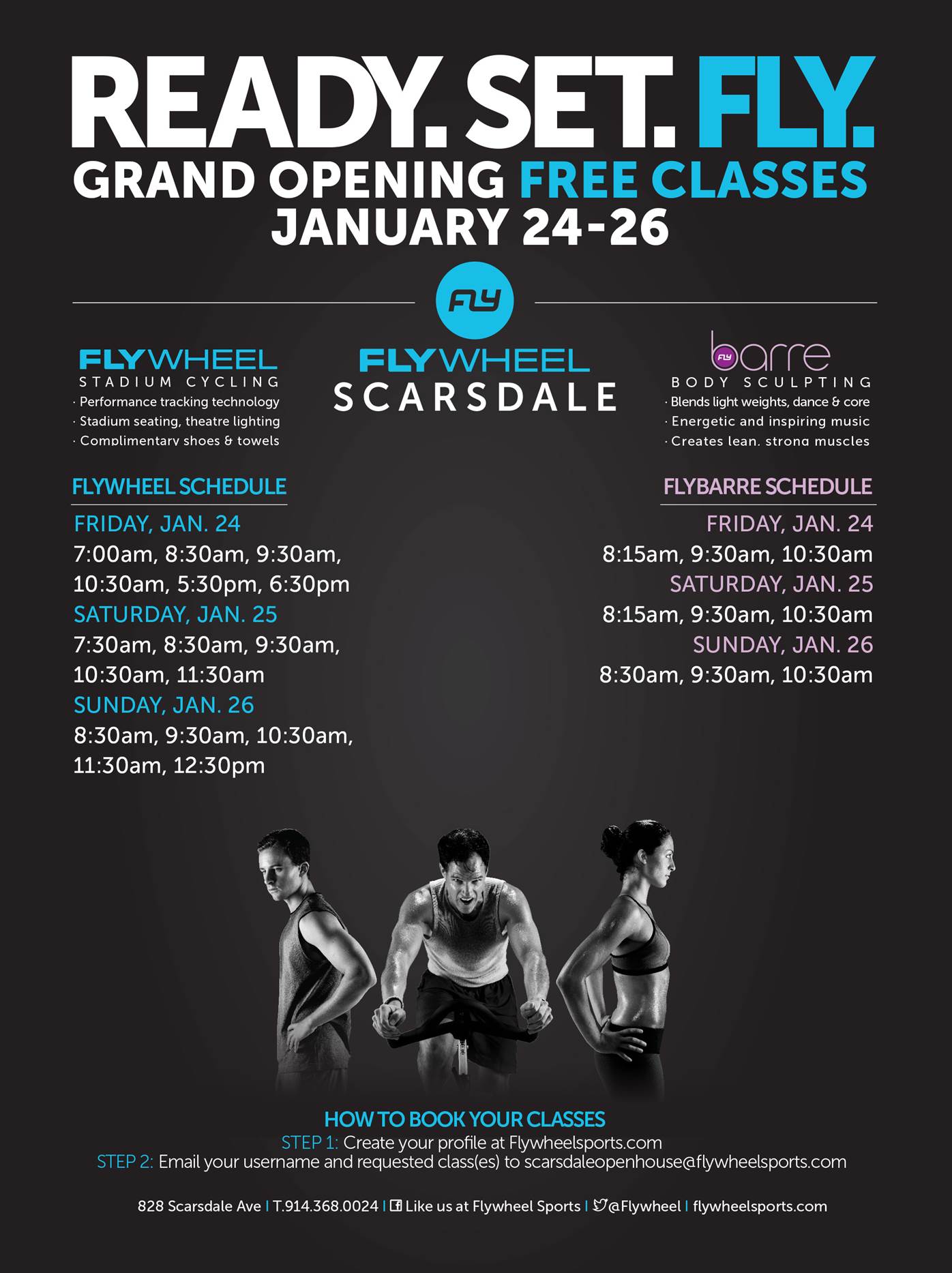 BLOG COMMENTS POWERED BY DISQUS