Metro North Service Restored After Explosion Rocks Manhattan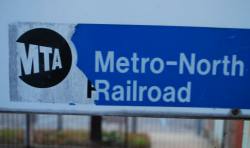 Service was restored on all Metro North lines at 4:45 pm Wednesday after a major explosion at 9:15 am at 116th Street and Park Avenue in Manhattan shut down all Metro North service from Westchester to New York City for seven hours. The explosion took down two buildings that collapsed next to the train tracks. Two people are reported dead and 18 injured following the explosion and fire. One of the buildings included a piano store and the other a church. Some reported the odor of gas before the boom and a gas leak has now been determined to be the cause of the explosion. The sound of the explosion was so loud it reverberated for at least a half a mile.
Marjorie Anders of Metro North forwarded up the following information about the restoration of train service:

Metro-North structural engineers have verified the integrity of the Park Avenue elevated structure. And all four tracks have been restored to service after being cleared of debris, inspected for track and third rail integrity and approved for operations by Metro-North and the New York City Fire Department.

Trains will run at reduced speeds through the collapse zone to protect nearby employees and reduce vibrations as rescue and recovery work continues. This will result in some delays and crowding through the rush hour.
BLOG COMMENTS POWERED BY DISQUS