Former Deputy Mayor Sharon Lindsay Passes Away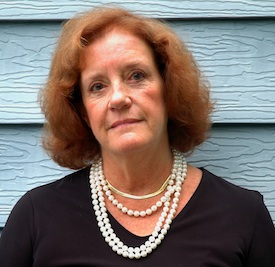 Former Village Trustee and Deputy Mayor of Scarsdale Sharon Lindsay passed away on May 21 at Westchester Medical Center. She was 65 years-old and died of complications from liver failure. A resident of Scarsdale for 33 years, Lindsay lived on Mamaroneck Road with her husband George. She raised two children here, Will and Kim, and was expecting her first grandchild in just two weeks.
Bright, classy, smart and eloquent, Lindsay was a vital member of the Scarsdale community with impressive professional credentials and a lengthy resume of community service. Lindsay graduated from Fordham with a BA in Political Science in 1970 and earned a law degree at Harvard Law School in 1973. She worked as a litigation attorney at Milbank, Tweed, Hadley and McCloy and was the former head of litigation and dispute resolution at JPMorgan.
At the time of her death she was the President of the League of Women Voters of Westchester, and served in the past as a trustee of Fordham University, president of the Westchester Symphony Orchestra, president of the Greenacres Neighborhood Association, chair of the Scarsdale Board of Appeals, and trustee and deputy mayor of the Village of Scarsdale. She and her husband George were also longtime members of the Scarsdale Golf Club.
In 2011, when Lindsay failed to earn the nomination of the Scarsdale Citizen's Party for mayor she was drafted to be a write-in candidate to challenge the party's candidate, Miriam Flisser. The campaign galvanized voters, who showed out in record numbers to vote in the Village election. The vote was so contentious that police and poll watchers stood by in Village Hall. Ultimately Lindsay received 136 votes to Flisser's 798, but her campaign brought the Village's one-party system into question.
Speaking to Scarsdale10583 about the election in 2011, Lindsay said, "I was approached by a large number of unhappy residents who expressed a wish for a choice. That is the democratic way and is totally consistent with any election process at any level in our country."
Mayor Robert Steves who was a lifelong friend and colleague of Lindsay's said, "Sharon truly understood what it meant to be a member of a community. She gave to Scarsdale and Greenacres at the highest levels. Her intelligent approach to issues and her energy will be missed. All of Scarsdale should feel a sense of loss." Long-time friend Lynne B. Clark said, "Sharon Lindsay was a shining star in Scarsdale. She used her intelligence, legal expertise, charm, social grace and sense of humor to serve the community with excellence in many endeavors. People accepted her leadership gladly. Her large circle of friends will miss her." Michelle Lichtenberg who worked with Lindsay on the Greenacres Association and the League of Women Voters of Westchester and was also in a book group with Sharon said she will "miss Sharon's keen intelligence, wry sense of humor, infectious laughter and her shining light." Laura Fratt worked with Sharon on the Greenacres Board as well as the Board of the League of Women Voters of Westchester. She said, "Sharon always knew which questions to ask and was very much a people person. So gracious, too."

There will be a receiving line at Bennet's Funeral Home at 824 Scarsdale Avenue in Scarsdale on Friday May 23rd from 1-4 PM for friends to come and pay their respects to Sharon and her family. A memorial service will be planned for a future date. In lieu of flowers, the Lindsay family requests that memorial gifts be directed to Fordham University, Office of Development and University Relations, 888 Seventh Avenue, 7th Floor, New York, NY 10019, Attn: Stewardship. Donors are requested to note that gifts are made in the memory of Sharon Lindsay.

BLOG COMMENTS POWERED BY DISQUS