SHS Science Students Present their Research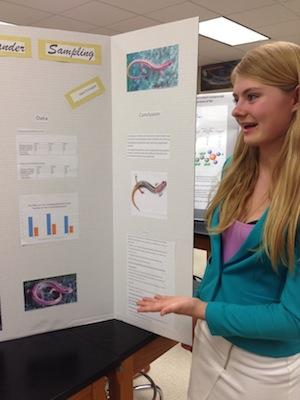 On May 20th, 2014, more than 30 Scarsdale High School sophomores, juniors, and seniors exhibited their scientific research during poster presentations. In true scientific conference format, students presented their research to interested members of the community, parents, and other students and even answered some lofty "stump-the-student" questions. The lead faculty included Laura Estersohn, Nicole Pisano, and Beth Schoenbrun. David Frank ran the program at the student level.
I had chance to hear some students present their work. Gabe Dolsten, a sophomore, is researching breast cancer tumors and the potential use of chimeric antigen receptors as therapy for certain tumor types. Although scientists have been able to produce chimeric receptors to treat some cancers, they have not been able to do this for breast cancer. Mr. Dolsten hypothesized that targeting certain protein receptors with an existing monoclonal antibody would allow a person's body to produce an immune response and eliminate the protein found in many breast cancer cells. "I'm hoping to enter my research into some science competitions," said Mr. Dolsten, "and there's plenty of opportunity for me to do that through Scarsdale High School." He found his mentor with some help from his dad at Memorial Sloan Kettering.
Signe Forsingdal presented a poster on best practices for sampling salamanders in streams. "Salamanders are indicators of stream health, and stream health is indicative of the overall ecological health of an area," she said. "In fact, a change in stream salamander populations indicates environmental stressors." In order for scientists to study change over time or determine a potential problem, they must be able to collect salamanders effectively and efficiently. The two current methods are: 1. A time-constrained survey, and 2. A quadrat-transect method. These techniques are both effective at sampling salamander populations. Ms. Forsingdal hopes to compare the two methods and report her findings in order to help scientists decide which method to use, allowing them to determine stream health more effectively.
The featured guest speaker for the evening was Dr. Myles Akabas, MD, PhD, a Professor from Albert Einstein whose primary interest is malaria research. In 1973 he graduated from SHS and went to Cornell. He told the room full of science students that he learned much of what he knows about science from playing sports. "Be open to new and unexpected opportunities," he told the group, "and find a mentor." He emphasized the importance of working hard and making the most of the best moments. "You're going to make embarrassing mistakes," he cautioned, "and you just need to move on. Don't let those moments define you." Most importantly, he said, was to "...guard your reputation for honesty and integrity. This is crucial for a scientist. And you need to be creative." He told students that they needed to be willing to ask the questions other people weren't asking and take risks. Dr. Akabas concluded by talking about his own research on malaria. As a killer of millions of people annually, mostly in developing countries, malaria is a major public health problem. Dr. Akabas works with purines in hopes of developing a novel antimalarial drug that kills the parasites directly.
David Frank, SHS class of 2015, then introduced the four senior student presenters: Archana Ram, Sam Huang, Brett Pogostin, and Cindy Du. Two of these presentations are discussed in detail below.
Sam Huang is working to design and produce novel gene therapy for brain diseases.His lab is one of two, worldwide, that conducts gene therapy clinical trials for Batten's Disease. Children with this disease develop severe symptoms at around age 2 and die by age 10 due to the lack of the CLN2 gene. "It's like having a trash can and not being able to empty it. Grey matter and neurons of these children continuously shrink," he said. Gene therapy works to replace defective CLN2 genes to the cells through a vector, namely a virus that is not pathogenic, has a low immune response, and carries long-term gene expression. However, clinical trials thus far have demonstrated only a small improvement for Batten patients using a viral vector. "My goal is to create a more efficient vector for gene delivery to the brain," he said. "This could have the potential to treat any brain related disease," he added. Mr. Huang plans to continue to test his vector using mice.
Cindy Du presented her research on the role of ACSL4 in androgen deprivation therapy resistant prostate cancer. Androgen deprivation therapy is currently used to treat prostate cancer. However, most cases develop resistance. Ms. Du is studying ACSL4 in her lab. "After several experiments, I hypothesized that ACSL4 may be a biomarker or a new target for pharmacologic therapies," she said. She also looked at MicroRNA in her lab to see if it would bind to ACLS4 in order to inhibit prostate cancer growth. "Unfortunately, it did not," she admitted, "and I concluded that the MicroRNAs studied do not appear to regulate ACSL4. However, there is the potential that microRNAs could be used as novel therapies and biomarkers."
The science research students thanked their faculty and the faculty thanked the students with coffee mugs, individualized for each student and their correlating research. Stay tuned for results of upcoming science competitions.
BLOG COMMENTS POWERED BY DISQUS