Stellar Season for the Scarsdale Girls Varsity Tennis Team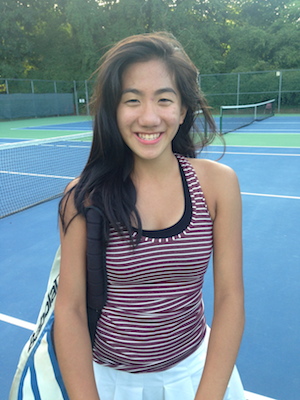 We asked Coach Jennifer Roane for the secret sauce behind the success of the Scarsdale Girls Varsity Tennis Team, and she answered in one word: consistency. Simply put the girls are getting the ball back, playing a steady game and waiting for their opponents to make the errors.
Their patience has paid off and the team has now has won all of their League matches and dropped only one non-league match with a narrow 4-3 loss to Horace Mann. They trounced their Mamaroneck rivals 6-1 and New Rochelle 7-0 and as of October 1 they are 9-1.

Beyond the wins, the girls look happy on the court and look great in their cool team uniforms. Roane reports that during practices rather than compete for positions, the girls have asked to work on strategy and teamwork. While watching a match, one of the mother's of a senior player remarked, "this team has bonded," and watching the team dynamics it is evident that they support each other.

The team includes many returning players, a few who moved up from the Varsity B team and one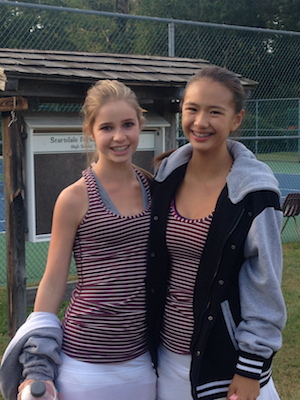 freshman. Roane explained that she would only take a freshman on the team if the newcomer would play – and freshman Phebe Denison is playing and enjoying the companionship of the upperclassmen.
We stopped by to see a few matches and were impressed with the girls' athleticism, sportsmanship and positive energy. Playing first singles is senior Kim Zou who has beautiful strokes and drives the ball hard. She bound off the court at the second match against opponent Ursuline defeating Sophie Moeller 6-0 in the first set and ahead 3-1 in the second when Moeller had to retire due to illness. Zou worked on her tennis this summer at Kela Tennis in Mt. Vernon and strengthened her game.
Playing second singles sophomore Ashley Granieri usually wins, but plays long matches. At the September 22 match against Ursuline she beamed as she told me she had won 6-1, 7-5. Even when her opponent called for a line judge, Granieri kept her cool and played her game. However, against Horace Mann she was not as lucky. Granieri played until 8 pm losing the match in a third set tiebreaker with a score of 10-8. Most of the team and the parents hung in to watch and cheer her on. Another returning player is senior Adrienne Travis who is one of the captains and plays third singles for the team.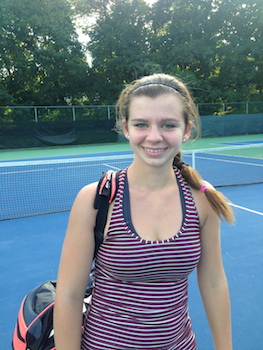 This year senior team captain and 4-year varsity player Kate Rabin is paired with junior Jessica Tsai at first doubles and they are having a terrific season. Last year Rabin partnered with Granieri who is now playing singles.
Junior Elin Johansson is playing second doubles with Allison Schein and in a tough match against Horace Mann split the first two sets and won 10-7 in a third set tiebreaker. Nina Lurie, who moved up from the B team this year also rotates into second doubles. Johansson's partner from last year, Francesca Johnson is out with an injury.
Playing third doubles are Anshe Barmecha and Kayle Waterhouse , and in fourth doubles are Dorianna Marambio and freshman Phebe Denison.
This week marks the end of the regular season. The girls will undoubtedly move onto the sectionals later this month.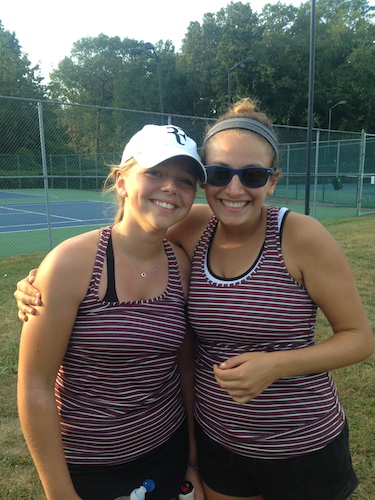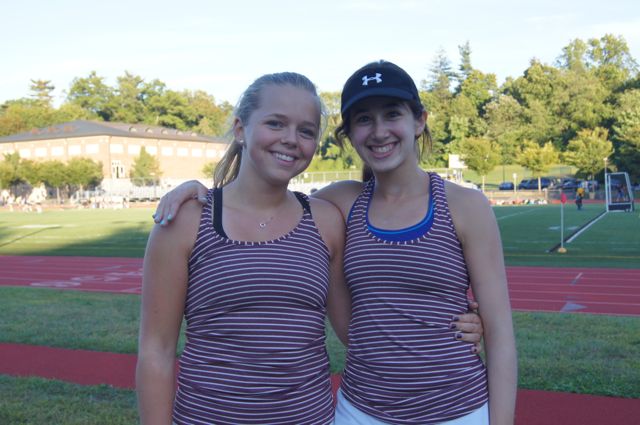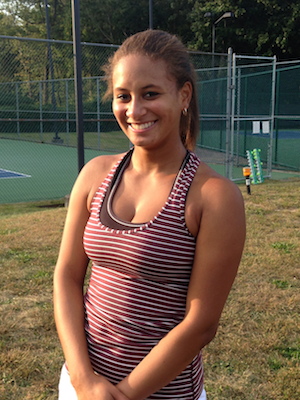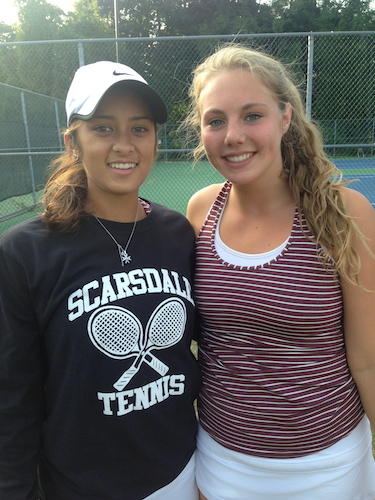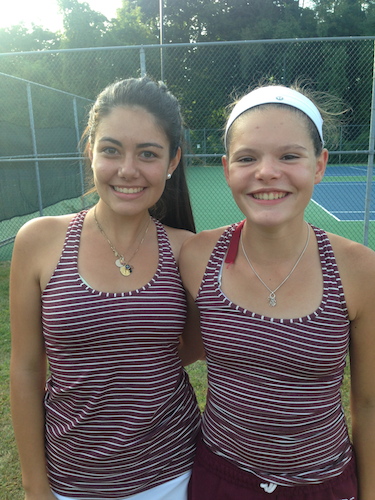 BLOG COMMENTS POWERED BY DISQUS