Msgr. William O'Brien Remembered for Pioneering Work in Drug Rehabilitation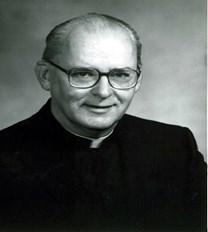 Monsignor William B. O'Brien died on October 19, at St. Pius X Rectory in Scarsdale. He was 90. A Mass of Christian Burial was held at St. Pius X Church on Saturday Oct. 24 at 10:30 a.m.
Monsignor O'Brien leaves behind an impactful legacy. He was a seminal figure in residential drug treatment, and his pioneering work earned him worldwide recognition and appreciation. In 1963, he founded a drug rehabilitation program, Daytop (Drug Addicts Yield to Persuasion), on Staten Island. Daytop was extremely influential as it changed the way addiction was viewed and treated.
Monsignor O'Brien was also co-founder of the World Federation of Therapeutic Communities. Under his guidance, this global movement established groundbreaking treatment programs worldwide. Furthermore, as a trusted adviser to heads of state, as well as to His Holiness Pope John Paul II, Monsignor O'Brien helped shape policies that have radically improved treatment programs around the world. He was the author of the highly acclaimed book, "You Can't Do It Alone: The Daytop Way to Make Your Child Drug Free." He also published numerous papers in national and international journals, and these have inspired generations of treatment professionals.
Nevertheless, Monsignor O'Brien remained a simple parish priest at heart. He was as deeply devoted to his parishioners at St. Brendan's in the Bronx as he was to residents in treatment and their families.
According to an obituary prepared by Saint Pius X Church, "Monsignor O'Brien will be remembered as a truly extraordinary man of staggering faith, integrity, warmth and loyalty. His impact on drug treatment has been – and will continue to be – profound and lasting. Monsignor O'Brien's enduring legacy will be his selfless dedication to saving young lives and his unswerving devotion to his church and God."
Monsignor O'Brien's commitment to helping individuals affected by drugs began early in his career. As a young priest stationed at St. Patrick's Cathedral, people would frequently drop by at all hours asking for help and wanting to speak with a priest. Monsignor O'Brien always made himself available, and during this time, he met with many concerned parents who were worried about their children and drug abuse. It was 1957 and the opening chapter in America's modern age of drug abuse.
As a priest, Monsignor O'Brien knew he had a responsibility to act. So he began a journey in search of a solution. Six years later, he created this solution through the founding of Daytop. Since 1963, Daytop has helped tens of thousands of young people reclaim their lives – changing despair into hope and destruction into productivity.
The influence of the program has been far-reaching. Monsignor O'Brien established a relationship with the US State Department in which Daytop receives funding to provide training and to develop treatment programs in countries prioritized by the State Department. Monsignor O'Brien also secured coveted Consultative Status (Category II) with the United Nations and worked with that world body in developing treatment programs on a global scale.
As president of Daytop, Monsignor O'Brien was recognized as a great and charismatic leader. According to people familiar with him, "He never just entered a room; he took possession of it. He never assigned a task or project that he didn't pursue with equal fervor. And he inspired. We wanted to work as Monsignor worked. And he was famous for sending personal letters of commendation to staff for a job well done. Staff treasured these letters and many would frame them and proudly and prominently hang them on their office walls."
Despite the demands of being president of Daytop, Monsignor O'Brien never lost his close connection with his parishioners. He never introduced himself to people as "Monsignor O'Brien;" rather, he was simply "Father O'Brien." Without fail, he would always celebrate the 6:45 a.m. Mass (which he always began at 6:30 a.m.) at St. Brendan's, where he was stationed before heading to his office at Daytop.
According to words shared by Father Sebastian, pastor of St. Pius X: "I believe I am not alone when I say that up until a relatively short time ago, when Monsignor was well into his eighties, we never thought he would die. We thought he was indestructible. While we all grew older, he seemed to remain constant. And that's why hearing of his death is so shocking to so many of us. We just wanted a little more of the great one for ourselves. Monsignor has provided an example of what one determined, courageous and caring individual can do for mankind. And he did it all with a really great sense of humor. He could match wits with anyone with his sharp, good-natured humor. He loved a good joke. And when he heard one there would first be a knowing glint in his eyes before he would throw back his head and laugh uproariously, which was always totally infectious."
Donations in the memory of Monsignor O'Brien may be made to St. Pius X Church, at 91 Secor Road, Scarsdale, NY 10583.
BLOG COMMENTS POWERED BY DISQUS