Scarsdale Village Welcomes New Police Chief Andrew Matturro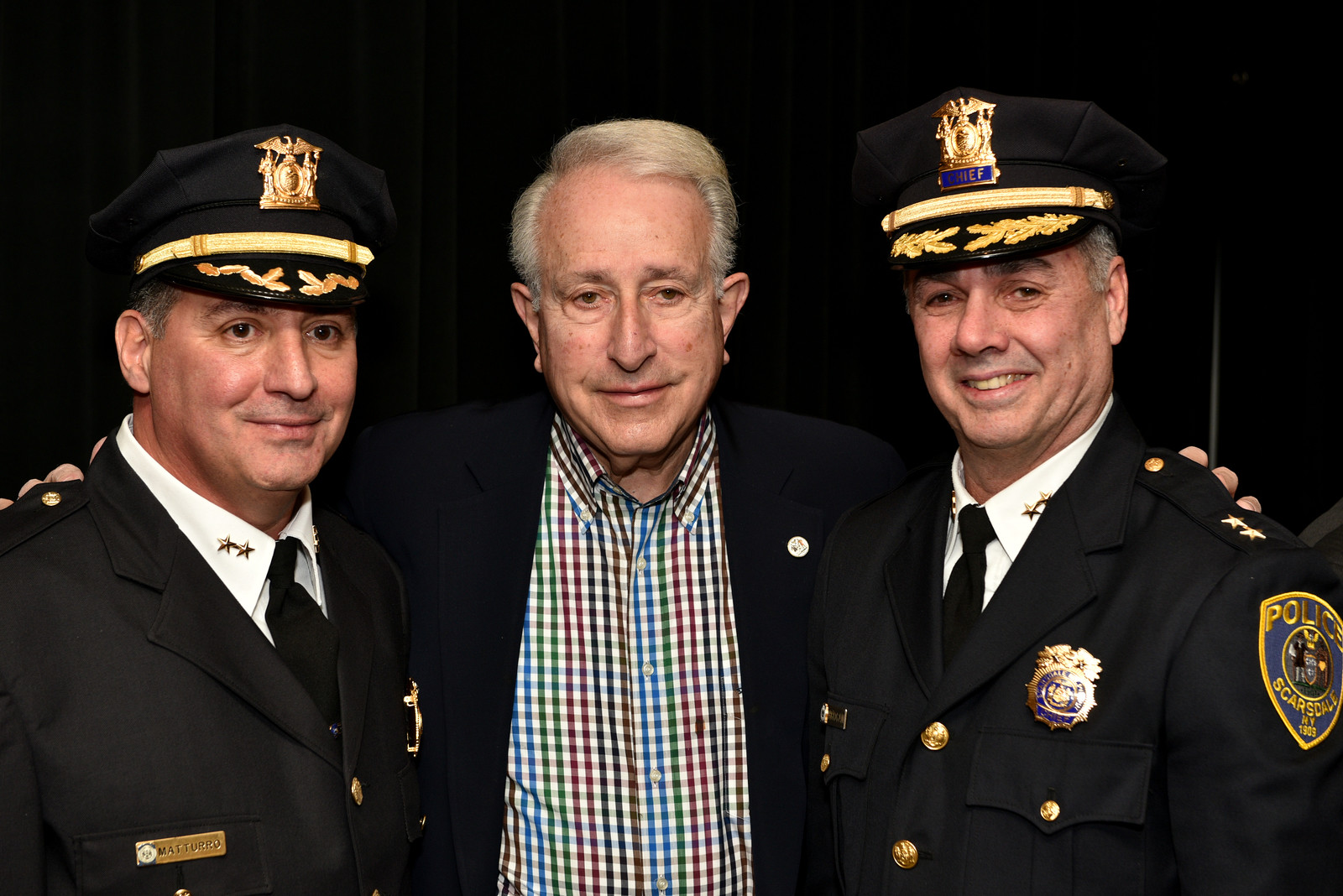 As the incoming Chief of the Scarsdale Police Department, Andrew Matturro's credentials are impressive. His promotion to Chief marks a transition from his role as Captain, an executive officer position that is second in command and oversees all divisions of the department. Before becoming Captain, Matturro served as Patrol Lieutenant, Patrol Sergeant, Detective and Patrol Officer – acquiring an in-depth, hands-on understanding of the various divisions and functions of the police department. In total, Matturro brings 30 years of experience to the job. He was hired by Rye Brook Police Department in 1984 as a patrol officer, and he transferred to Scarsdale in 1988. During the course of his career, Matturro has actively pursued additional training and education. He is a graduate of the FBI National Academy in Quantico, Virginia, the LEEDS (Law Enforcement Executive Development Seminar) program at Princeton University and the inaugural session of the New York State Law Enforcement Executive Institute. He possesses a B.S. in Criminal Justice from Mercy College and a Masters Degree in Public Administration from Marist College. But, more his sterling resume, Matturro's day-in and day-out dedication to policing, the needs of the village and the entire SPD team of have prepared him for the role of Chief. Matturro's work ethic and professionalism stand out. In the 27 years he has been with the Scarsdale Police Department, he has only been away from the job on one sick day – and that was when he came to work with a badly injured, heavily bandaged thumb, and retiring Chief John Brogan sent him home. The next day, Matturro removed the bandage, bore the pain of the broken digit and carried on with his work.
"I've always believed in coming to work and doing your job the best way you possibly can. Whatever you do, you should give it your all – with no exceptions. The appreciation is nice, but the real reward is in knowing that you have met or exceeded your part of the obligation," Matturro said. "Of course, I've been fortunate to have been supported and mentored by really great people along the way, who have all set excellent examples – particularly Chief John Brogan, who was my sergeant when I started here 27 years ago."
Reminiscing about the past, Matturro recalled the thrill of realizing his dream of becoming a police officer. "Ever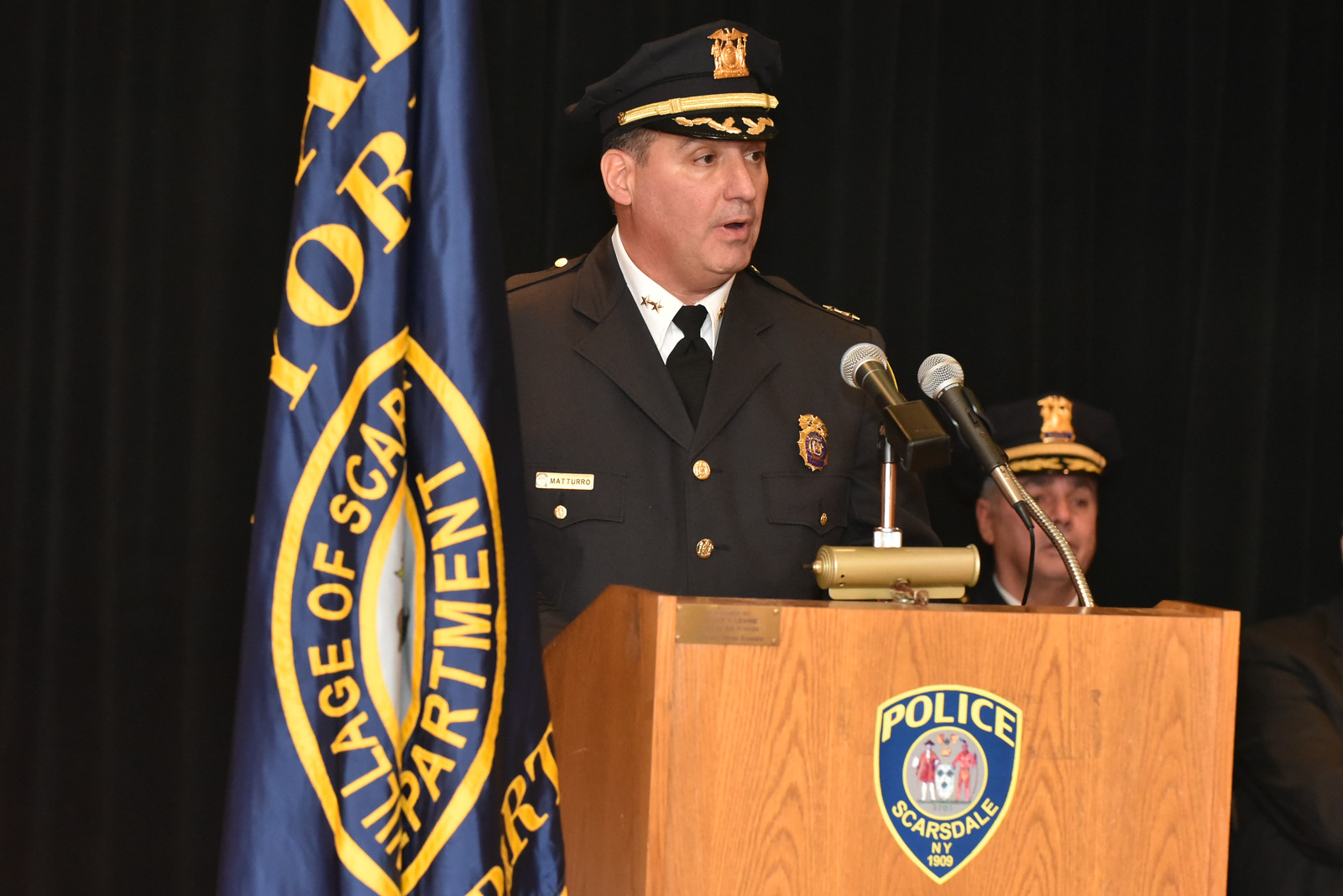 since I was a little kid, I knew police work is what I wanted to do. So, I focused on it and went in that direction. ... When I was hired here in Scarsdale, before I started, I had a moment of hoping I made the right decision – which is normal for any young person beginning a new job. But after that first day, I have never looked back. I love coming to work every day. I'm proud to be part of this police department, and I'm honored to work with such a dedicated and talented group of people."
While this kind of commitment is often cultivated in families with traditions of law enforcement careers, this is not the case in Matturro's family. Aside from his great-grandfather's brother, Vito Matturro, who was the first Italian cop in the city of Rye in the early 1900s, no one else in Matturro's family has pursued police work.
According to Matturro, being a Scarsdale police officer involves special aspects of the profession that go beyond typical police work. "Scarsdale is a unique community. Here we are fortunate to be very much supported by both the community and village management, and we accordingly emphasize an attention to service and human compassion on the job. We are always thinking about what the community needs from us and what we can do for the greater good of the village. I always tell officers to treat people exactly as they would want their own family to be treated when encountering a police officer. Everyone who is part of this department understands service is an important part of this job. However, for the people we hire, this generosity and community mindset is part of who they are; it is how they were raised, and so they naturally bring it to the job."
Matturro credits former Chiefs Brogan and Donald Ferraro, who served as Chief prior to Brogan, with establishing the current culture of the department. Their policies, practices and leadership forged and strengthened the department's professionalism, its attention to service and its relationship with the community. As incoming Chief, Matturro intends to build upon these important aspects of the department.
"I want to increase our ability to address to the needs of the village and the community by actively looking at various situations and by listening carefully to input from the community. The goal, of course, is to develop appropriate programs and enhance existing initiatives, such as the department's youth services and services for older adults," he said. Together with the command team, Matturro is currently working on a plan to best solicit and review input from the community.
Several proactive initiatives are already in the works. "We have a police force of incredibly talented individuals with many different interests and strengths. If someone on our team has an idea that can benefit the department and help the community, I encourage that idea to be brought to my attention so it can be discussed and developed," Matturro said.
As an example, Matturro shared the story of an officer who is passionate about reducing incidents of dangerous texting and driving. "When this officer, Armando Nava, pulls someone over for texting and driving or cellphone use, it's not just about writing the ticket; it's really about talking with the person and getting that important message across," Matturro explained. "Supporting this officer by enabling opportunities to officially spread the message about dangerous texting and driving, such as through his upcoming participation in a panel discussion next month, can have a significant, valuable impact in the community. These opportunities can also be professionally satisfying to the officer, who knows he's making a difference. ... This is how you build a committed team that's engaged, active and effective, and it's how you achieve programs that work."
Just as Matturro has always supported the men and women of the department – by ongoing training, professional development and the facilitation of special interest programs – Matturro is wholeheartedly supported by police department members, village management, village staff, and a network of regional colleagues. According to organizers of the promotion ceremony, approximately 70 people were initially anticipated to attend the event at Scarsdale Library, Jan. 22; however, more than 120 guests showed up to offer their support. Among those in attendance were uniformed, off-duty and retired personnel from various jurisdictions, village officials, dignitaries, civic leaders, citizens and Matturo's family – including his wife of 22 years, Kyle, and their daughters Brenna (18), Allaire (14) and Caaelyn (10).
Speakers and guests at the promotion ceremony repeatedly remarked on Matturro's strong, intelligent and directed leadership, as well as on his skills at productively motivating a team. Both of these qualities have been developed not only through Matturro's professional experience in law enforcement, but also through his 20 years of coaching Junior Varsity football at Port Chester High School. Working alongside his cousin and fellow coach, Mark Santora, Matturo inspires his players through encouragement and by holding the kids to high standards and expectations.
"I have three daughters, but with the football team, it's like I also have 30 sons," Matturro said. By believing in the kids, by expecting them to always do their best and by requiring them to behave with good sportsmanship and good citizenship, Matturro has succeeded in molding responsible, respectful and hardworking young men.
"As a coach, these life lessons are more important to me than winning the game," Matturro said. "If I can teach these kids to be good people – to be honest, to work hard at the best of their ability, to be polite, to treat women and other people with respect, to think about their actions, to have good moral character and make good choices, to do the right thing – this is what matters most. If you can influence just one kid or make a difference in just one person's life, this is the measure of real success. You're really coaching life – not just a sport."
Matturro's attitude about coaching – and his way of bringing out the best in others – provides exciting insight into what the future of Scarsdale's police service to the community might mean. As outgoing Chief Brogan told this reporter, "The moment of retirement is bittersweet for me, but Andy [Matturro] is incredibly well prepared to take the reins. Scarsdale is in very good hands."
Photos courtesy of Jon Thaler. See more and purchase photos at JonThaler.com.
BLOG COMMENTS POWERED BY DISQUS