Marvin Rafeld Sentenced to Serve 3 to 9 years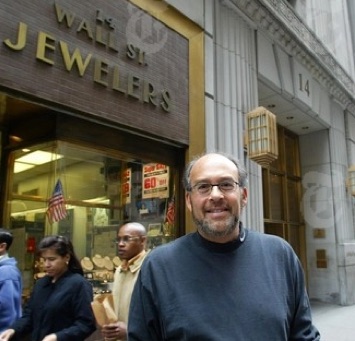 Former Scarsdale resident Marvin Rafeld was sentenced to three to nine years in jail on his 61st birthday, June 16, for stealing more than $2 million from his customers and vendors. Rafeld, who owned Wall Street Jewelers at 14 Wall Street for over twenty years appeared to be an honorable businessman until the terrorist attack on 9/11 caused a major downturn in his business. It seems that financial pressure got the best of him and he turned to defrauding trusted customers to stem his losses. In May, Rafeld pleaded guilty to six counts of Grand Larceny in the Second Degree and one count of Scheme to Defraud in the First Degree.
Rafeld lived on Walworth Avenue for years and drew many customers from Scarsdale. Tall, gregarious and handsome, he was a popular coach, a Director of Scarsdale Youth Basketball and volunteer firefighter. More recently, perhaps while he awaited trial, Rafeld was seen working as a busboy at the Larchmont restaurant Lusardi's.

On Tuesday June 16, Manhattan District Attorney Cyrus R. Vance, Jr., announced that Rafeld would serve three to nine years in state prison. Vance said, "In addition to defrauding his customers and vendors out of approximately $2 million, the defendant also admitted to stealing priceless pieces of jewelry, such as wedding bands, from victims who entrusted him with precious family heirlooms," said District Attorney Vance. "For certain types of criminals, trust is capital—and in this case—the defendant leveraged the cachet of Wall Street and the customer confidence he cultivated over many years to steal from victims under the guise of legitimate business."
According to his guilty plea beginning in 2013 Rafeld convinced customers to pay large sums of money for jewelry that Rafeld never bought. Additionally, he stole jewelry provided to him by both vendors and customers. In some cases, he promised to pay his vendors for pieces post-receipt, and in other cases, he appropriated for himself certain sentimental pieces of jewelry that his customers entrusted to him for repair.
In one such case, reported to the Scarsdale Police in 2013 a Bell Road woman complained that Rafeld had not given her the proceeds from the sale of her diamond ring. She brought the ring to him in November 2013. The ring was originally appraised at $16,000 but he said he would sell it for $3,600. She did not hear from him for a few months and in April 2014 he told her that he had sold the ring but could not pay her as he had declared bankruptcy. He paid her $750 and said he would pay the balance but never responded to her requests for the balance.
In total, the district attorney says Rafeld stole approximately $2.3 million from more than 100 unsuspecting customers and 16 different jewelry vendors. He was convicted of Grand Larceny in the Second Degree, a class C felony, 6 counts and Scheme to Defraud in the First Degree, a class E felony, 1 count.
According to the Daily News, Rafeld, said, "There are no excuses for what I've done," Rafeld said. "I'm simply a coward who chose to give in to my misguided compulsion."
BLOG COMMENTS POWERED BY DISQUS