Take a Hike! Reconnecting with Nature Within 90 Minutes of Your Driveway
Published on Thursday, 30 July 2015 17:27
Stacie M. Waldman

In 1912, when John Muir published The Yosemite, he wrote, "Everybody needs beauty as well as bread, places to play in and pray in, where nature may heal and give strength to body and soul alike."
While most of us moved from the city to the 'burbs for the house and the yard, (and easy preschool admission,) we also moved closer to accessible hiking trails (thank you, car,) and should consider taking advantage of this huge perk of living outside of the city.
There are scores of hiking trails right in Westchester County and many of them are relatively easy to walk both in terms of distance and altitude gain. Driving 45 minutes over the Tappan Zee lands you at Harriman State Park/Bear Mountain where you'll find varied terrain for the novice and advanced hiker. Driving an hour to an hour and a half brings you to places like Mohonk Preserve and Hudson Highlands State Park, both of which have excellent options for more serious hikers. Some highlights for hiking in our area are listed below.
Within 30 minutes of Scarsdale
Mianus River Gorge is in Bedford, about 30 minutes from Scarsdale. There are three trail options and this is a great beginner's hike for kids or hike-hesitant adults. No dogs are allowed on the trails. The trails take you along the Mianus River and there are interesting mica and quartz quarries to observe along the way. There are no fees.




Rockefeller State Park Preserve is in Pleasantville and is located on the property of Stone Barns so good food is not far from the trailhead. A one-mile walk brings you around the pond where there are 20 miles of trails to explore. A small parking fee is charged on the weekends and dogs are permitted on the trails. The hikes are all considered easy.

Cranberry Lake Preserve is just up the road near Kensico Dam. There are four loops to walk and the purple loop leads to you a rock quarry with lovely views. The rocks from this quarry were used to build Kensico Dam. The on-site and free nature center has programs on the weekends and is open during the week. This is a great place to bring kids, even very young ones. Parking is free.
Within 60 minutes of Scarsdale
Westmoreland Sanctuary and Butler Sanctuary are beautiful nature preserves in Mt. Kisco. Both sanctuaries have short, easy hikes and are therefore ideal for kids. Both Westmoreland and Butler offer exceptional bird migration viewing opportunities.

Ward Pound Ridge is often touted as the park with the best hiking in Westchester. With 41.9 miles of trails and some surprises like caves, there's something for everyone. You can even camp here. Many people suggest hiking a five or seven mile loop to get a feel for the preserve and get your legs moving. Although the hiking itself is not difficult, some of the trails are long so bring water and snacks. A parking fee is charged.
If you're looking for something with a higher elevation gain consider Anthony's Nose. Located in Cortlandt, this "out and back" hike climbs quite a bit on the way there but offers exceptional views of the Hudson River and the Bear Mountain Bridge from the top. There's some elevation gain on this 2.6-mile hike so wear solid hiking or running shoes. Expect the hike to take 2-3 hours.

Breakneck Ridge in the Hudson Highlands State Park is considered the most strenuous hike in the Hudson Valley on the eastern side. Near Cold Spring, loop trails between 5 and 10 miles long require rock scrambling and true hiking prowess. Although equipment isn't needed for the rock scrambles, expect to use your arms and legs to pull yourself up boulders as part of your hike. The excellent views are your reward and you will definitely feel a sense of accomplishment when you finish this hike. It's best to go on a weekday or early in the morning to avoid crowds.

Harriman State Park and Bear Mountain boast over 200 miles of accessible hiking trails including some Appalachian Trail hikes. A nice perk of many of these hikes is that a cool lake for swimming is never far from a trail. There are many beginner hikes within the park and there are more moderate to difficult hikes as well. The park lies just over the Tappan Zee Bridge and it's close to great outlet shopping as well if have energy left after your day hike.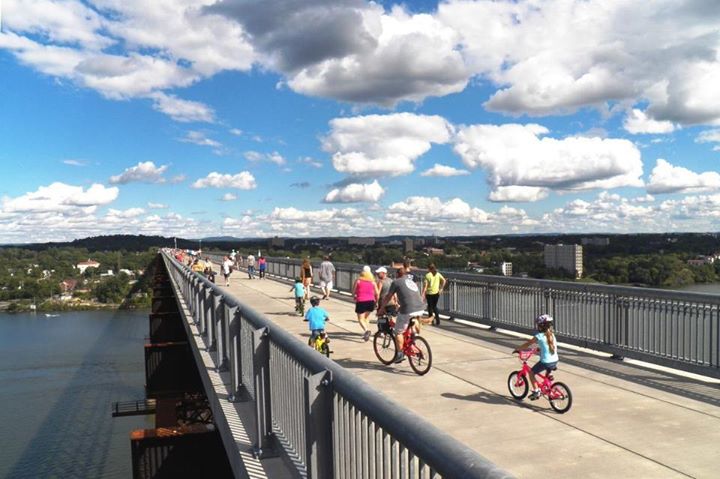 Walkway over the Hudson is a pedestrian bridge that spans the Hudson River in Poughkeepsie. At 212 feel above the Hudson, the walkway is the longest, elevated pedestrian bridge in the world. Hiking over and back is a 2.5 mile trip. Fall foliage season is a popular time to walk the bridge but a little known secret is that the walkway actually gets plowed in the winter! There's a fee for the parking lots but street parking may also be available. There is no incline so this walk is a great place for hesitant hikers to begin –though not if they're scared of heights.
Within 90 minutes of Scarsdale
Mohonk Mountain Preserve offers some of the best hiking within 90 minutes of our hometown and the preserve knows it, because they charge a whopping $12 per hiker to walk their trails. There are gentle beginner trails as well as extremely challenging ones like Bonticou- a 6-mile loop that includes a very challenging rock scramble. If you're looking for an overnight excusion, Mohonk Moutain House is a luxury, all-inclusive resort and you'll have use of the grounds during your stay.

Minnewaska State Park has 200 5-star reviews on Tripadvisor. A hiker's dream, there are waterfalls, lakes, and trails for everyone. This is a great place to go if you're looking for solitude. New Paltz is under 90 minutes awy by car and has some great post-hike dining options. If you're heading up to Minnewaska, don't read the articles about the leech infestation at the lake last year!
Check out this great hiking site. You can plug in the length, location, and difficulty of the hike you're looking for as well as features like "dogs allowed" or "fees charged" to get a map of your options and find the perfect hike.
Enjoy "nature's workshop," a term coined by John Muir. And as Henry David Thoreau wrote, remember that, "...our lives...need the relief of where the pine flourishes and the jay still screams."
BLOG COMMENTS POWERED BY DISQUS