NYS Education Department Releases Spring Test Results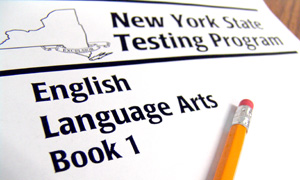 New York State has released the results for the state testing from Spring 2015, and Scarsdale kids continue to score far above state averages. According to the data, in NYS overall, 31% passed reading tests and 38% succeeded in math. In Scarsdale, results for the ELA range from 55% to 72% for grades three through eight and 71% to 80% for math.
There continues to be controversy about the tests, which are aligned with the Common Core curriculum. In Scarsdale 5% of students opted out of the ELA testing, and 6% opted out of the math. But the state average is far higher – the data shows that only 80% of eligible students took the tests, meaning 20%, or 200,000 students opted out. Since federal law requires that 95% of students participate, districts could face sanctions for falling so far below the benchmark.
The analysis from the state shows some interesting data.
-Performance on the ELA and the math tests among racial and ethnic groups improved this year over last year, with Asians outperforming white students.
-Statewide, girls do better than boys on the ELA and on math tests.
-The 20% of students who opted out of testing were much more likely to be White, much more likely to be from low need or average need districts, more likely to have scored at Level 1 or 2 in 2014 and much less likely to be economically disadvantaged.
Take a look at the report here.
We asked Scarsdale's Assistant Superintendent Lynne Shain for comments and data on Scarsdale and here is what she shared:
Scarsdale School data, this year vs. last year: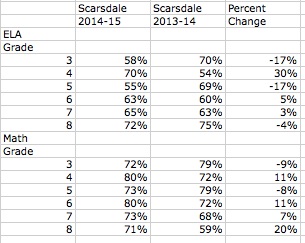 1-How does their performance compare to the prior year?
Some scores went up some scores went down, but overall there was not any statistically significant change.
2- Were there changes to the tests that may explain variations in results?

No
3-Have parents received their results? What should they do if they have questions?
I will be sending a message to parents about who to contact for more information when I announce the exact date when they may access test results through the parent portal.

4-Is this data used to decide which students qualify for extra help or time in the learning center?
Yes. The state sets the scores for students who qualify for AIS support (Academic Intervention Services). Parents of students who qualify will be notified by their school principal or designee.
BLOG COMMENTS POWERED BY DISQUS