Pickpockets Arrested and a Possible Abduction in Greenburgh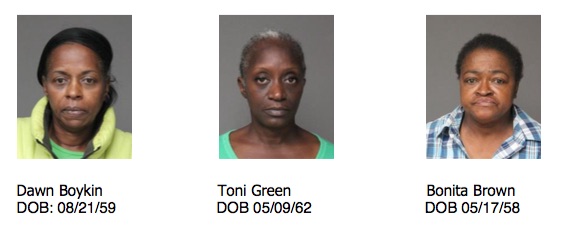 Greenburgh Police arrested three pickpockets who stole purses from shoppers at Target in White Plains, Mt. Vernon and New Rochelle and other retail stores in Greenburgh. The suspects distracted senior shoppers then stole their purses and used the stolen credit cards to purchase merchandise on their accounts. The arrests were the result of a four-month investigation by the Greenburgh Street Crime unit. These same suspects may have been responsible for incidents in Mamaroneck and Port Chester.
Arrested were Dawn Boykin of 2010 Bruckner Blvd Bronx, NY who is charged with 6 counts of Grand larceny 4th degree and CPCS 5th degree; Toni Green of 2010 Bruckner Blvd Bronx who is charged with Grand Larceny 4th degree and Bonita Brown of 931 Prospect Ave. Westbury, NY who is charged with Grand Larceny 4th degree.
Possible Abduction
Greenburgh Police are investigating a possible abduction that took place at a bus stop on Tarrytown Road at around 8:30 am on Wednesday October 14, 2015. Police received a call reporting that a Hispanic male in his twenties (20's) operating a red car wearing a white hoodie, stopped at the bus stop west bound on Tarrytown Road by Manhattan Avenue. The Hispanic male got into a physical altercation with a Hispanic female in her twenties (20's) who was at the bus stop and physically forced her into the red car and fled northbound on Manhattan Avenue. The female was wearing dark clothing. This department is currently investigating the incident and asking anyone with information to contact the Greenburgh Police at (914) 989-1710.
BLOG COMMENTS POWERED BY DISQUS