Deans Guide Students and Families through the High School Experience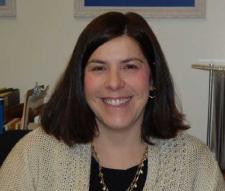 They're the first to greet students at the beginning of high school and the last to say goodbye as they handout diplomas at graduation. In between there are conferences, workshops and help with the college search. Scarsdale High School Deans follow students from ninth grade orientation through four years of adolescence and help them plot out plans for their new lives as young adults. The Dean is often the face of the high school for parents and students who turn to them for advice and help in resolving any questions or issues.
At a study session preceding the March 21 meeting of the Board of Education, Scarsdale's Director of Counseling Andrea O'Gorman gave an impressive presentation about the role of the SHS Counseling Department, outlining the many programs and services that impact students and parents. Viewed in its totality, the long list of department responsibilities and functions seemed to be more than a staff of nine deans and five support staffers could accomplish. But as anyone who has had a student matriculate through SHS knows, the counseling department is the center of the school, helping families to navigate the high school years, leading planning for college applications and the post-high school years.
For freshmen, Deans are active in freshman seminars and the Civ Ed program. They hold individual family conferences and track student progress. Tenth grade brings a sophomore seminar, a values clarification exercise and individual student conferences. In eleventh grade, the Deans begin preparing students for the future, helping them with the college search, essay writing, a standardized testing plan and instruction on how to use Naviance, to research college options. Students craft a personal bio, consider whom to ask for college recommendations and work on a timeline for the application process.
The Deans also hold workshops on financial aid, applying as an athlete, using the common application, preparing for interviews and offer programs to multicultural families, those with learning differences and students wishing to do a gap year.
The deans stay current by actively visiting a wide range of schools each year. In the last year, the nine deans visited 50 colleges and universities around the country. In addition, colleges seek out Scarsdale students, as 200 representatives visited SHS this past year.
The result of their efforts is impressive. O'Gorman reported that the office processes 5,000 college applications a year. Here are the most recent statistics on college applicants:
98-99% go to college

97-99% attend 4-year institutions

Over 60% are accepted at the most competitive schools

96% apply before November 1

88% apply to an early decision or early action plan
O'Gorman also shared some interesting news about college applications.
She cited a movement called Turning the Tide from the Harvard Graduate School of Education to humanize the college admissions process and teach students to value the high school experience. Rather than build a college resume, new thinking encourages them to do what's meaningful to them. O'Gorman said, "more is not always more," meaning that a long list of activities is not necessarily better than a few that a student feels passionate about.
She also mentioned a new college application called The Coalition Application which is aimed at low and moderate-income students and offers an option to the Common Application. It is designed to increase access and allows students to assemble a digital portfolio. Colleges can draft custom questions that meet their needs and include college-specific essay prompts.
In a relatively short presentation, O'Gorman offered much vital information about the high school experience. View it on the Scarsdale Schools website.