Is Your Child Traveling Abroad? How to Prepare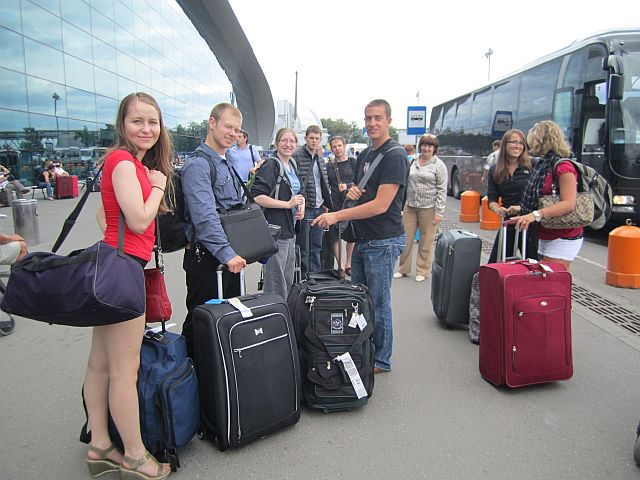 With summer approaching, many students will be heading overseas on various adventures: cultural immersion, language immersion, community service, art studies, sports training, teen tours, to name a few. Additionally, as college students complete the academic year this month and next, they are beginning to focus on preparation for study abroad in the fall semester, some starting as early as July. Though it's no fun to think about all the mishaps that could befall them, it is good to be prepared for lost passports, missing credit cards and the occasional need for a doctor's visit. In the spirit of safety and preparation for these wonderful opportunities, the following are a few suggestions for planning overseas travel.
After sending three boys abroad several times each, here's my list of recommended to-do's for keeping safe and staying in touch. This list is not comprehensive, so we invite you to please send additions, comments or corrections in the comments section below.
• Keep a copy of your child's passport and visa at home, and give her/him a copy as well (to be kept separately from original documents).

• Register your child with the State Department Smart Traveler Enrollment Program (STEP) by clicking here.

• Keep a copy of credit and debit cards, driver's license, and domestic insurance card at home (and overseas health insurance card if a plan has been purchased). Be sure to copy both sides of each card. Provide a copy to your child in case the cards are lost or stolen so she/he can contact the banking institution immediately and continue to have access to healthcare if necessary.

• Notify banks (debit cards) and credit card companies that your child will be abroad - dates and locations.

• Identify local partner bank(s) for ATM transactions so transaction fees might be waived.

• Make sure you have access to credit cards, debit cards, bank accounts, etc. in case you need to communicate with banks/credit card companies on your child's behalf. If you are not on the account, the financial institution will most likely not be able to help you.

• Verify that domestic health insurance covers healthcare abroad and find out if the travel abroad program offers international health insurance coverage.

• Your child should bring all medication that she/he will need during the semester. It is unclear whether we are permitted to mail prescription medication abroad; therefore, the traveler should take enough medication needed for the duration of the stay as well as prescription documentation: the original bottles, the scripts, and the information that accompanies the medications.

• Bring a copy of medical, eyeglass, contact lens, etc. prescriptions in case anything needs to be replaced while abroad.

• Obtain some local currency for your child to bring if needed before she/he can get to an ATM at the destination.

• If necessary, bring a copy of the program or university agreement/acceptance letter and also financial documentation/coverage responsibility.

• Check airline baggage requirements.

• Bring chargers for phone/computer/iPad/devices...

• Bring adapters/converters.

• Bring luggage locks.

• Bring weekend bag for travel.

• Communication: Download WhatsApp and/or Viber, no cost messaging/phone calls. FaceTime works well if you both have iPhones. An internet connection is needed on both sides. Data usage is heavy for some of these apps, so having a wireless connection works well.
One final thought: give this list to your child to handle, or at the very least, complete preparations together! Safe travels.
BLOG COMMENTS POWERED BY DISQUS