Truck Hits Mamaroneck Road Bridge, Closing Hutch for Eight Hours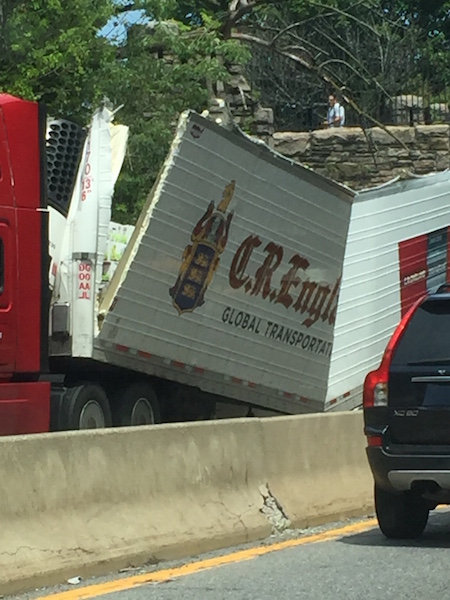 A tractor trailer heading south on the Hutchinson River Parkway on Monday afternoon July 18 hit the bridge at Mamaroneck Road and broke apart, snarling traffic for eight hours. Local resident Jonathan Lerner spotted the problem and shared these photos of the accident which scattered potatoes over the two lane road.
According to Lerner, accidents like this happen all too frequently. He said, "There is an ongoing problem with trucks being "sliced" open like can openers I have lived near exit 22 Mamaroneck Road for years and this occurs each month and has happened for the past 25 years. This one shut down the Hutch this afternoon at around 1 o'clock. There are two dangers. The first: cars behind the truck could be hit by debris. The larger danger is that if the truck is carrying fuel or chemicals and explodes, such as what happened on 287, it endangers nearby homes and residents."
He continued, "I have expressed my concerns over the years, and due to my actions they have raised fines and installed electronic devices, but we still see this happening. My suggestion is to attach a chain to pole at the height of the bridge before the bridge, so that a truck driver would be aware of the height of the bridge by hearing the chain scrape, well before hitting the bridge. This is low tech and inexpensive and would allow the driver to exit the parkway before hitting the bridge."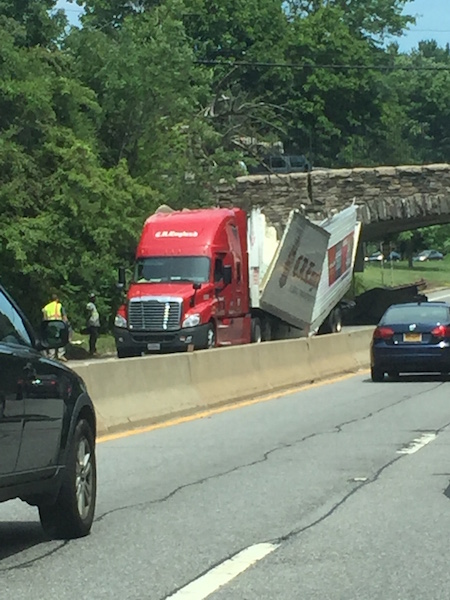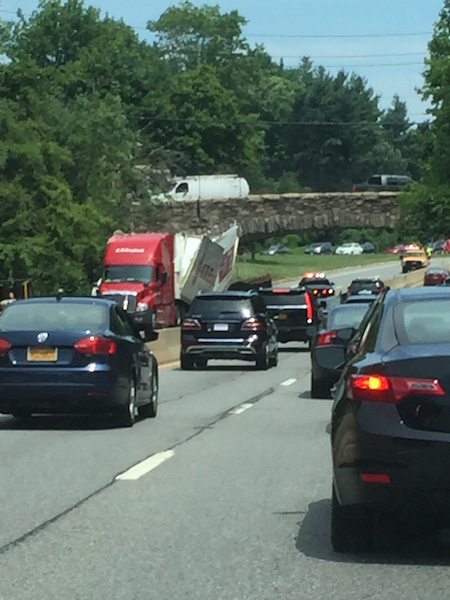 Photos by Jonather Lerner
BLOG COMMENTS POWERED BY DISQUS