Walter's Hot Dogs Expands to Stamford and White Plains
People travel far and wide to get a taste of the famous split hot dogs from Walter's in Mamaroneck. A nationally recognized historical landmark, Walter's Hot Dogs is located in a Chinese pagoda on Palmer Avenue and has multiple food trucks that travel to both private and public events.
Now Walter's is hopping off the truck and into two new restaurants in the area! The new Walter's locations are 186 Mamaroneck Avenue in White Plains, and Habor Point in Stamford, Connecticut. The Harbor Point restaurant should open by the end of the summer, and the White Plains restaurant in the fall. Customers can expect all the classic Walter's food items at the new locations, including hot dogs finished with house-made mustard, crispy potato puffs, curly fries, milkshakes, and ice cream.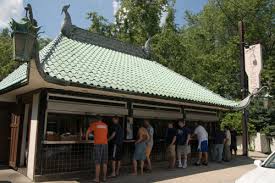 Katharine Woodward, the 98-year-old family business' PR and Events Manager, commented on the expansion: "We are so excited to be expanding our family business and to bring the Walter's experience to more of Westchester and beyond! It has brought so much happiness to generations and generations of customers and sharing our family tradition, and the food and recipes our great grandfather and grandfather created, make us so proud."