Community Spotlight: Scarsdale's Central Taxi in the Age of Uber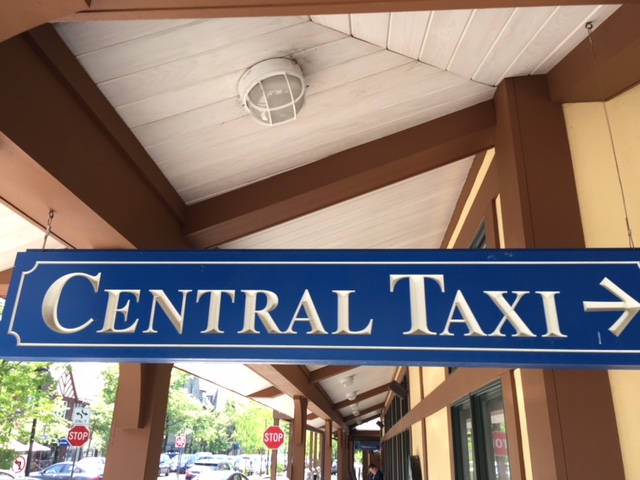 Central Taxi has been a community institution for more than a century and manager Peter Blier has been with the company for the last 37 of those years. He sat down with Traci Dutton Ludwig to dish about life, passengers, changing times in Scarsdale, Crown Victorias, kindness and what it means to be in the driver's seat. Sit back and enjoy the ride...
Traci Dutton Ludwig (TL): Peter, tell me how you got started with Central Taxi and how this adventure developed:
Peter Blier (PB): I was a kid, growing up in Edgemont, always interested in cars.
When I was eight years old, my au pair dated a young driver at Central Taxi, and I thought the job was cool. There were lots of relationships between the 19- and 20-year-old taxi drivers and au pairs back then, as the au pairs were always looking to take the train to the city on their days off. ... When I was 18 and on summer break from college, I applied to be a driver because I wanted a job that offered me an opportunity to be part of my community. I was turned down because of my student status and because the manager at the time wanted people who could make a consistent time commitment. The next year, I applied again and got the job. Before I applied again, I reminded the manager, whose name was Robert, that he was the same guy who had dated my childhood au pair years ago, before she went back to England.
TL: So, you started as a driver, worked as a dispatcher and are now a manager. Tell me about some of those roles.
PB: We've had all kinds of people come in and work as drivers and dispatchers. Usually they have some connection with the community and are seeking a second job or part-time job. We've had dispatchers who have been concert pianists, retired teachers, and one former Columbia University professor who had suffered a massive heart attack and was looking for a quieter, local job. There are also phone answerers in the dispatch office. Their job is to take calls from prospective passengers, while the dispatcher communicates with the drivers over the radio. We typically have at least two people working in the dispatch office, per shift, each day. There are three shifts: the a.m. shift, the evening shift and the night shift. We don't close until the last Metro North train arrives at the Scarsdale train station, which is usually around 2:35 a.m. Since we open again around 6 or 7 a.m., we're open for 20 hours each day.
TL: Do most dispatchers also have experience driving the cars?
PB: Yes, almost all our dispatchers are also licensed to be drivers. This way, they can jump in a car and drive someone if need be. As I said before, many of the drivers come from other jobs the community – as bus drivers, coaches, custodians, village employees, firefighters, Scarsdale postal workers. We have approximately 50 drivers, with about 20 on call at any one time.
TL: How big is your fleet?
PB: We have we have five Honda minivans, five Toyota Prius hybrids and about 12 Ford Crown Victoria sedans, which were specifically designed to be used as taxis. They have great legroom, floor space and trunk capacity, and they can accommodate the needs of a taxi company unlike any other car. The Crown Victoria is the only sedan that can comfortably fit three adult passengers in the back seat, without requiring passengers to climb up into the vehicle like an SUV. That's why we still drive them. The Crown Vic served its purpose so well that its design stayed substantially the same from 1998 until 2011, when the car was discontinued. The Crown Vic has aged well and kept its integrity, like vinyl recordings.
TL: What is the history of Central Taxi?
PB: The company was started as a horse and carriage transportation company by Edward O'Brian in 1912. It was later sold to the Bliss family in the 1960s, and David Bliss owns it to this day. As second and third generation owners, the Bliss children and grandchildren also serve as mechanics for the cars, because they run an auto repair garage in White Plains. The dispatch office has always been located in close proximity to the train station. Previously, we were in a small house located right next to the pedestrian bridge running over the tracks. When the station was remodeled and Starbucks moved in, we relocated to where we are today. We were able to make suggestions regarding our space.
TL: What special requests did you have in designing your dispatch office?
PB: We added bay windows on both sides so we can see people and our cars coming and going. The view enables us to take in as much life as possible; it's like an airport control tower. Since there is no longer regular personnel staffing the train station, we are the semi-official, human face of this entire area, for people getting on and off the train and coming into the village for the first time. If people fall asleep on the train and miss their stops, Metro North conductors often advise them to ride all the way to Scarsdale, because they know we are here and can help these passengers get home.
TL: Being the "face" of the train station, you must get a lot of questions!
PB: Yes. We get asked directions a lot. Twelve years ago, the actress Uma Thurman got off the train and came to our window to inquire about the location of a particular street. She wanted someone to guide her there. It was within walking distance, and she didn't need a ride. But it was exciting for our dispatcher anyway. He remembers her as being "very tall."
TL: How have you seen the industry develop over the last few decades?
PB: We've always served local people, but now "local" is defined in a much broader context. Previously, you could be a driver at age 18. Now, you have to be 23. That's been the situation for 20 years, and it's connected to insurance rules. What this age change has meant for us is that we used to get students, who had deep roots in the area, looking for part time jobs. We were able to train these young drivers from the ground up. Now, we don't get that demographic anymore. But what has stayed the same is that we get people who have significant ties and connections to this area, and they stay on the job for a long time. If we compare the statistics: Uber drivers last approximately six months. Yellow cab drivers, on average, last 18 months. Central Taxi drivers stay on for decades and decades. We have five or six drivers who have been driving with us for over 40 years, and we have 15 drivers with over 20 years. As taxi driving goes, this kind of loyalty stands out.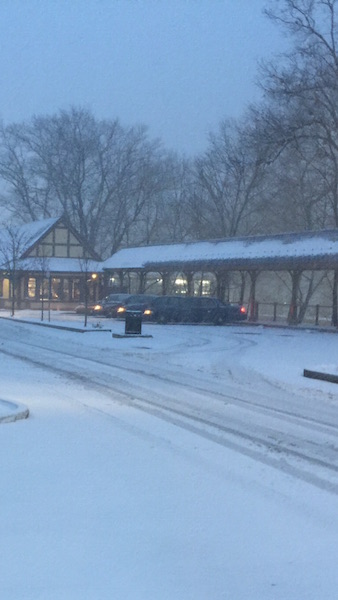 TL: What do you attribute to Central Taxi's success with this kind of longevity?
PB: You have to be flexible and you have to treat people with respect. Sometimes this means accommodating changing schedules and obligations that exist in personal lives. It's really that simple.
TL: Taxi driving used to be thought of as a dangerous profession. How do you evaluate the risks today?
PB: Years ago, taxi driving used to be more dangerous than it is today. We've had a few robberies over the years. The one I remember most involved our driver George, a retired long-distance truck driver. One night, a young guy got into George's car. It was a carpool, and the guy asked to be taken to an isolated and far-away location, which meant he would be dropped off last. When George arrived at the location, the guy said, "Give me your money. I have a gun." George, who was a World War II vet, said, "Show me." The guy then showed George a gun, took George's money and stole the car. George was not hurt, but it was a traumatic experience. Today, with cameras and GPS monitoring, we are in constant contact with our cars all the time, so the chance of something like this happening is less likely. Sometimes, we get people who run away and don't pay. One time, I dropped a guy off in Fleetwood late at night. He said he had to go up to his apartment to get fare money, but he said he was leaving an important bag containing his work in the car, as proof he would return. When he didn't come back to the car after a long time, I looked in the bag, and it was full of garbage. He planned the whole thing, and it was a scam.
TL: What have been some of your longest and most unusual trips?
PB: Eighty percent of our business involves repeat passengers with a destination in Scarsdale or one of the towns within a mile of the train station – Eastchester, Hartsdale, Edgemont and Yonkers. The New York City area and Connecticut are other common destinations, as are all the airports. We have driven passengers hundreds of miles, taken kids to college and chauffeured executives, who don't drive, to far-off places. At least one side of the trip has to originate or end in Scarsdale.
TL: With competition from Uber and other car services, what advantages do you offer clients that those other companies can't provide?
PB: We are not anonymous, and we don't treat our passengers like they are anonymous. Many passengers request certain drivers, so we honor those requests or suggest another driver with a similar personality. As a local community business, we build relationships, and we care enough to find creative solutions when problems arise. For example, it can get challenging when everyone does everything at the exact same moment. On "escape weekends" and school holidays, we bring in extra drivers and put all the people and cars we can on the road. We are also one-hundred-percent dedicated to staying open during snowstorms and hurricanes, and we are experienced in navigating snowy roads, icy hills and flooded streets to shuttle people to and from the train station. Even though logic might say otherwise, as long as Metro North is running, we are open. We think of it as our civic responsibility. Like the village's public safety departments and the volunteer ambulance corps, there's a certain amount of crisis management required by a taxi company.
TL: How much unpredictability is involved in the business, and how do you manage it?
PB: There are predictable patterns that occur on regular days. Each shift has its own rush hours. But demand can change enormously, and it can be unpredictable. Since Uber came on the scene, our busy times are still busy, but our quieter times are even quieter. This is the challenge to weather these quieter times and still maintain the capacity to meet peak demands.
TL: I have heard that Uber is not as regulated as a taxi company, which can cause a major headache if things go wrong. How do you see this?
PB: Yes. Since taxi companies serve municipalities, taxi companies are regulated. The Village sets our rates, and we must be properly licensed, authorized and insured to operate here. Because we are tied to a municipality, our drivers must complete fingerprint background checks each year. Since fingerprints go through a federal database, these checks are more thorough than the kind of simple, name-only, one-off background checks that companies like Uber and Lyft use. If a person uses a different name at Lyft or Uber, it is possible to bypass discovery in a simple background check. Also, if you call Central Taxi, you will immediately speak with a live person who is located in our dispatch office on East Parkway. If you have a problem with Uber or Lyft, you must first fill out an online form and sometimes wait for days until you get a possible response.
TL: Describe your ideal customer.
PB: Our ideal customer is one for which we do everything, for every member of the family. That means taking commuters to and from the train station for work, driving grandparents to wherever they need to go and running school calls for the children. Our idea is to pay attention to everyone in the family to best meet the family's needs. We have been asked to pick up and deliver food and medical prescriptions for our customers and take them to doctor's appointments. Especially for older people who have stopped driving, we provide a valuable service, and these people are often more comfortable using one of our familiar drivers, as opposed to a stranger.
TL: So, your drivers become part of the family, in a way that's rare in today's disconnected, digital age.
PB: Yes, that's an unexpected benefit for everyone. There's definitely a social component to driving and riding in a taxi that is getting lost in today's age. The smart phone is destroying the art of small talk. Years ago, we used to encourage our drivers to make conversation with passengers. Now, drivers often just to say, "Hello," because some people would rather be on their phones than talk. After saying "Hello," drivers can gauge the passenger's interest in having a conversation. Some people prefer a quiet ride, while others want to tell you their life stories. We even have a few older passengers who enjoy the conversation so much that they visit us in the dispatch office to socialize and have a little lunch, without even needing a ride.
TL: The world is changing, and we are in transition. How are you working to maintain your old-fashioned community values while also embracing new preferences and technologies?
PB: First of all, I believe we have managed to survive because of our commitment to service and personal relationships. We never want to lose this. At the same time, we realize that younger people are living their lives through apps on their phones. They like to order transportation on an app, track the car's location and get a notification when the car is there. For this reason, we are working on getting our own app that will enable anyone to request a Scarsdale Taxi ride through a smart phone. Right now, our phone number, 914-723-0016, is equipped to accept text requests, as well as phone calls. This is efficient if kids are in class or somewhere noisy or somewhere they don't want to be seen making a phone call. For even more convenience, families can set up house accounts; so passengers don't always need to have cash handy for transportation. I urge everyone to store the Central Taxi number in their phone's contact list today.
TL: Have any celebrities used Scarsdale Taxi?
PB: A few months after retiring as Speaker of the House, in 1987, Tip O'Neill rode in my car. I picked him up from the Waldorf Astoria, in New York City, and drove him to Scarsdale, where he was giving a lecture. He was a big guy who sat in the front seat, smoking a cigar and making good conversation the whole time. On Park Avenue, people in other cars kept turning around and cheering for him. It felt like a parade. Linda Fiorentino, the actress from "Men in Black," was a regular customer. Other actresses, actors, singers and athletes who were passengers included Ruby Dee, James Earl Jones, Roberta Peters, The Beach Boys, Larry Johnson, John Voight and Rupert Holmes. Holmes wrote the Pina Colada song, which is actually titled "Escape," and once he sang it to other passengers during a ride share. There was also a memorable trip with the ballerina Allegra Kent, one of Balanchine's muses, who used to live in Scarsdale. I was taking her to the airport, and we were totally backed up in traffic. She was incredibly beautiful and poised, and she attracted attention everywhere she went. Even just seeing her through the taxi windows, people in other cars kept turning around to stare. Once we got to the airport, an access ramp was blocked by a series of barricades, and we were in standing traffic. Nothing was moving, So, she got out of the taxi, took her bags in hand and, in one giant, graceful ballet leap, sailed over all the barricades. She landed beautifully on the other side to get to her plane, as if she was on stage.
TL: That's a magical story! How about all the forgotten things that people leave in taxis? Has anyone left behind anything interesting?
PB: People leave cell phones and credit cards all the time. Sometimes, too, we have been asked to go to people's houses and retrieve things forgotten at home while leaving for a trip – such as passports. Those are always calls of desperation, followed by a mad dash to the airport.
TL: Do you have any advice for your passengers?
PB: Just be kind. Remember, we're here to help. People get used to the rushed, detached city mentality, but it doesn't have to be like that. "Hello" and a smile go a long way.
Central Taxi can be reached by phone or text at 914-723-0016. Stay posted for a Central Taxi app, coming soon!