New Computer Shop Opens in Scarsdale Village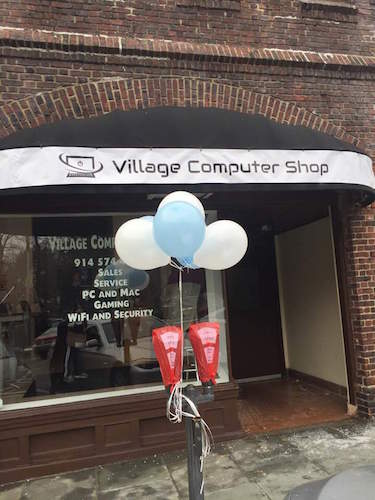 There's a new computer shop in Scarsdale Village and they're ready to help you with all of your computer, networking and gaming needs. Owner Miles Spisiak has been working in the field for 15 years, helping clients with computer maintenance and service. He's ready to help you with your tablet, laptop, desktop computer, Mac or a PC.

He worked for Geek Squad at Best Buy for nearly 5 years, and in the new store, he will offer clients a more personal experience. Miles say, "After all, electronics we use every day have become very personal and are "extensions of ourselves" so to speak. Sometimes a maintenance call is all that's needed to find a solution to your problem."

Spisiak always wanted to open up a computer shop in Scarsdale Village, and is excited that he has now realized his dream. He loves this area and his wife has owned the Garth Road Inn since 2010. When he saw the available retail space at 17 Boniface Circle he fell in love with it. It is just what he had envisioned and believes that Scarsdale Village can benefit from having a local computer and repair store.

Says Spisiak, "Most certainly customers can benefit from my knowledge, reliability and flexibility. This is a very convenient spot right in the Village and easy for customers to visit, rather than traveling over to Central Avenue or White Plains Road. I have been working with individual clients as well as small businesses across Westchester, many of which are in Scarsdale, Eastchester and Bronxville area."

Here is how the can help:

Sales – laptops, desktops, tablets, fully custom systems, made to order.

Service – Repair laptops, desktops, all in one computers, Mac and PC.

Computer Setup – setting up new computer, updates, data transfer, software installation, etc.
These repairs include virus removal and protection, general system maintenance, operating system upgrades and updates, hardware upgrades such as hard drive, solid state drive, memory, video card upgrades, etc. He also replace broken screens on laptops and some all in one computers.

Data Services – these would include continuous backup (before something goes wrong). Data recovery (after something goes wrong). Data migration (from one computer to another, old to new). Advanced data recovery (when data gets accidentally deleted). Cloud backup and data sync (usually across devices)

Networking –Troubleshoot networking issues including Wi-Fi, wired networking, network printing and data sharing. General network problems, there are too many to list. He also sets up home technology systems, such as smart TVs, Roku, Amazon FireStick for streaming, etc.
Spisiak offers in-store services as well as on-site services for all of his clients. Some problems need solving at the client's location, so bringing devices to the store would be pointless. He urges you to call him with your technology needs. He can point you in the right direction, set up your equipment and make today's technology work for you.
Village Computer Shop
Miles Spisiak
17 Boniface Circle
Scarsdale, NY 10583
www.villagecomputershop.com
sales@villagecomputershop.com