Prom 2018: Photos from the Wet Carpet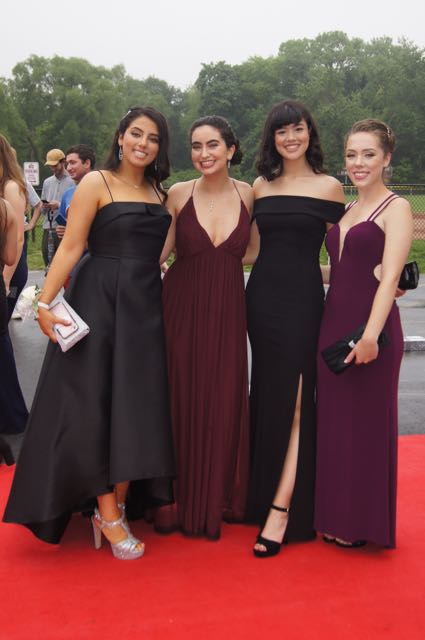 Would the pre-prom celebration be held inside or outside? Outside or inside? That was the question on Thursday May 31 when questionable skies and an unreliable weather report made it difficult to know whether the rain would hold off for the hour long red carpet celebration before the Scarsdale High School prom.

Early in the afternoon, when weather.com showed no chance of rain at 4 pm, school officials decided to keep the kids outside; but lo and behold, just as the first students arrived in their prom attire, the skies opened up. Many posed with umbrellas or huddled underneath the covered walkway. They remained good natured and gave us sunny smiles despite the gray skies.
When the rain began in earnest again, the class walked briskly down the red carpet to the buses, which whisked them off to the VIP Country Club on the waterfront in New Rochelle for a festive evening ..... indoors!
Once at the VIP Country Club, the venue was equipped with a DJ and dance floor, food, and photo booths. The class spent the night singing and dancing together to their favorite songs and taking fun pictures at the photo booth with friends. The earlier rain was no longer a worry for the seniors as they danced the night away. It is safe to say everyone had a great time.

If you don't see your photo in the gallery below, please email it to scarsdalecomments@gmail.com and we will add it.

Congrats to the class of 2018!