Seniors Explore the World of Work During Senior Options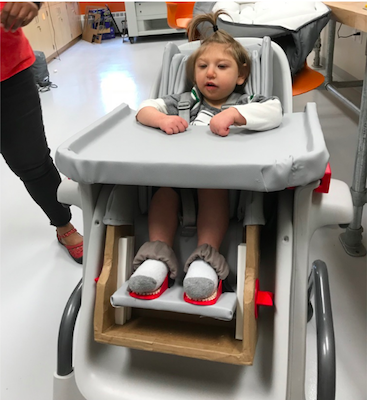 Yehuda sits happily in his new high chair designed and built by Friedman. As the school year drew to a close, the senior class was immersed in a mixture of emotions: relief, anticipation, apprehension, and excitement. Yet before Scarsdale seniors could cross the finish line of graduation, they faced their last obstacle: senior options.
For the months of May and June, Scarsdale seniors spent seven weeks, 30 hours a week, in the workforce completing internships or independent projects of their choosing.
Beginning in the winter, seniors were tasked with finding a "mentor" for their internship, any teacher at the high school who they have a close relationship with, to help guide them through the process. Students were then randomly assigned a "case manager" who is in charge of approving their proposals and passing their final projects.
Students then spent the ensuing couple of months finding, researching, and securing an internship. To do so, students found a "sponsor," or an employee/volunteer at their chosen internship to oversee their work. It is also possible for students to complete independent studies: projects in which approximately 10 hours are spent as structured time related to their study and the other 20 hours are spent alone working on a private project.
This year, Scarsdale seniors' senior options ran the gamut of interests. Here are some of a few exciting internships and projects:
Anthony D'Ambrosio completed his senior options with Dr. Matusz, an orthopedist. At his internship, he observed and helped Dr. Matusz complete MRIs and X-Rays for his patients.
During his time in the office, D'Ambrosio encountered a number of different spinal injuries and conditions, such as Spinal Stenosis, Spinal Spondylosis, Spinal Slippage, and Herniated Discs.
Although D'Ambrosio spent the majority of his time interacting with patients and aiding Dr. Matusz, he did have the opportunity to watch certain procedures.
D'Ambrosio observed two laminectomies, one rotator cuff repair, and two meniscus repairs.
"Overall I really enjoyed shadowing Dr. Matusz and getting to see the whole process of an injury from diagnosis to recovery," said D'Ambrosio.
Noah Glantz spent the past seven weeks at Pro Sports Physical Therapy. An athlete himself, Glantz has visited their physical therapy office a shocking 89 times for a variety of different injuries. He had always enjoyed the positive and welcoming environment and felt as if he "owed it to them to work there." Glantz is also interested in sports, medicine, and interacting with people, so this senior options project was the perfect fit.
At Pro Sports Physical Therapy, Glantz prepared bottles for ultrasounds, met with patients, did laundry and cleaned tables, made ice packs, and shadowed therapists. Over the course of his internship, he learned a variety of different physical therapy techniques, including heat, ice, manual therapy, strength therapy, ultrasounds, and laser.
Not only did Glantz learn technical, hands-on skills, but also how to support patients emotionally. Glantz helped many patients make short-term goals and focus on how far they have come rather than how far they have left.
For Ryan Guo's senior options, he spent 30% of his time interning as an IT assistant in Scarsdale High School and the remainder of his time on a personal project. Guo expressed interest in creative applications of technology, and this combination of responsibilities exposed him to a number of different skill sets in this field.
At the high school, Guo obtained real world experience working with hardware and software. He spent time reorganizing chromebooks, testing computer programs, installing new software, and researching database effectiveness for the foreign language department. Guo also had the opportunity of redesigning Scarsdale High School's floor plans to help improve legibility.
For the remainder of his senior options, Guo designed a visual novel. He used python and other coding languages to create special effects, wrote content, created artistic designs for the background, and incorporated audio. Guo said he "enjoyed the autonomy and free time" of his independent project to pursue his passion.
Guo has yet to finish his visual novel and looks forward to completing it this summer.
Jack Lazarus spent his senior options interning for a plumber. This unconventional internship was spurred by his interest in engineering and desire to gain hands-on, applicable experience in the workforce.
During Lazarus' final presentation, he joked that his friends and family all believed that he spent seven weeks unclogging toilets. Lazarus explained, however, that plumbing encompasses a much broader scope than toilets, but showers, sinks, gas generators, hot water tanks, radiators, and boilers as well.
Lazarus learned how to change flappers and flush valves; unclog drains; fix leaks, snake sinks and sewage pipes; and install sump pumps, new boilers, and new hot water tanks.
"Senior options gave me a look into a profession I had never considered before. The experiences I had gave me a new appreciation for plumbing and showed me just how many professions I take for granted and that many have larger impacts on the world than I thought," said Lazarus.
Charlotte Moser spent her senior options at Baked In Color. Local resident Julie Waxman,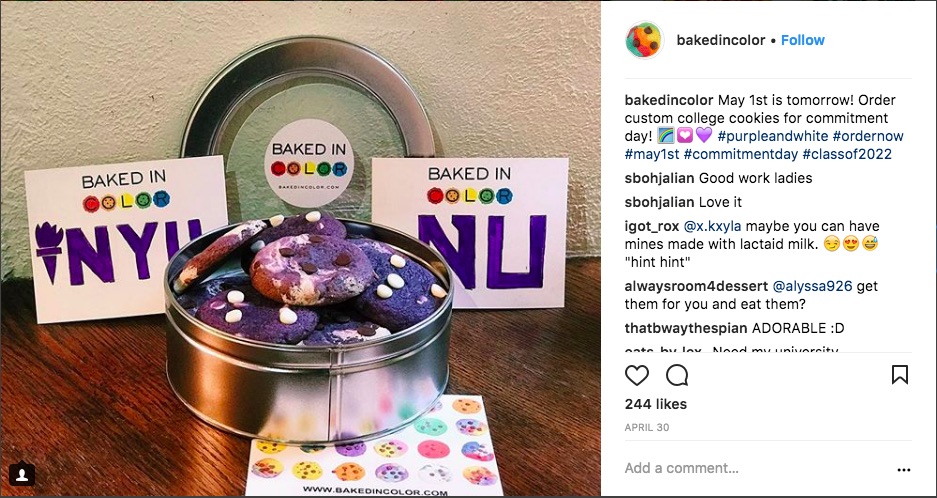 who began the operation business in May 2016, runs this company. Moser is interested in pursuing a career in medicine, but has always held an interest for baking and business as well.
At Baked In Color, Moser was charged with a variety of responsibilities. She had the opportunity to bake some of Baked In Color's staple rainbow chocolate chip cookies, those of which the business produces approximately 2,000 cookies per day. Moser also bought and managed baking supplies and helped prepare cookie packaging.

For the majority of her time, Moser helped run Baked In Color's social media accounts. During her time at the company, she learned the importance of social media exposure for new businesses. Moser helped design aesthetically pleasing cookie promotions to post on the company's Instagram account.
Caroline Stemerman interned at NM Designs, a budding interior design company. NM Designs incorporates traditional and contemporary elements to create unique designs.
Stemerman had a lot of independence at her internship. She sourced materials, coordinated and attended meetings with clients, created invoices, estimated project costs, and pitched ideas to her boss and clients.
Some of her projects included houses in the Hamptons, Long Island, and New Rochelle. Just as each house was unique, so were the needs of its clients. For instance, Stemerman recalled working with a religious family that could not have the color black in their house. "The most important thing that I learned was that each client has different wants and needs… and I had to learn how to work with that"
Zach Friedman designed and built a high chair for 15-month-old Yehuda. Friedman is interested in adaptive design association and creative engineering, and wanted to spend his senior options creating a physical product.
Yehuda has microcephaly, which causes abnormal brain development. He is smaller than most babies and struggled to sit upright in his previous highchair. Friedman's solution was to build inserts for Yehuda's head, neck, hips, and feet.
Friedman developed his prototypes and final product in the design lab at Scarsdale High School. "One of the best parts of this project was being able to work in the new design lab – having all that technology right in front of you makes a huge difference, it really makes the whole experience nicer," said Friedman.
After designing and building three prototypes, Friedman was finally ready to create his final product. It included Velcro ankle fasteners, a height adjustable footrest, 3D printed footholds, and side inserts. To build the final high chair, Friedman used a number of different technology and tools: everything from a 3D printer to a sewing machine.
Yehuda loved the final product. "He [Yehuda] wasn't in the best mood, and then he sat in the chair and we put all the inserts in, and you can see his face light up. Without it, he's really just falling over in his chair and you can tell he's not really comfortable, but with all the inserts in there, it's almost like he's being hugged the entire time and he finally feels comfortable in a chair that fits him," said Friedman.
To learn more about Friedman's project, click here.