Acai and Poke are all the Rage in Scarsdale Village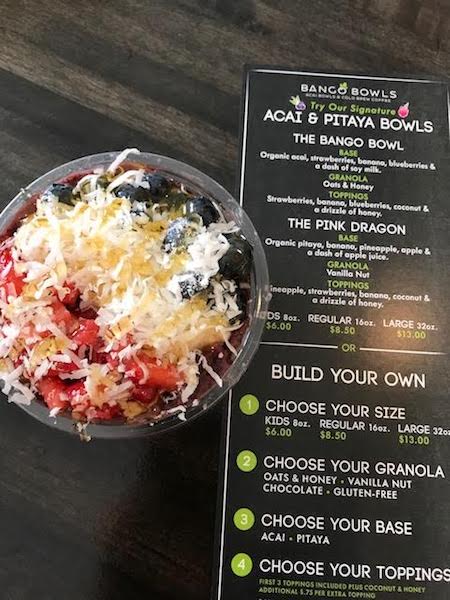 Though the streets of Scarsdale are bit quieter than usual, Harwood Court is hopping thanks to the new hot spot Bango Bowls, which opened in June and has instantly won a flock of loyal customers who are raving about the oatmeal, acai and poke bowls.

I have to admit I was slow to the party. I had no idea what acai was and even more embarrassing, I did not know how to pronounce it. But after my pilates class this morning, before the crowd descended on Bango Bowls, I decided to venture in. And now that I've tasted this new sensation, I am sure it will become a habit. It's no wonder why so many people are hanging out on the sidewalk.

First the acai. At Bango Bowls, they take frozen acai berries and combine them with several fruits to make their proprietary blend, which is something like a sorbet. Pronounced ah-sigh-EE, these berries are found on palm trees in the Brazilian rainforest and are said to be packed with vitamins and nutrients including antioxidants, fiber, calcium and omega fatty acids. I feel healthier just writing about them!

The signature Bango Bowl is a few scoops of acai, topped with strawberries, blueberries, bananas and granola, sprinkled with coconut flakes and drizzled with honey. I bought the small eight-ounce for $6.00, which my server said was 280 calories, but it tasted like 1,000.

While customers can choose between the signature Bango Bowl or The Pink Dragon bowl, a bowl with a base of pitaya, banana and apple then topped with vanilla nut granola, pineapple, strawberries, banana, coconut and drizzled with honey, there are also an abundance of granolas and toppings to customize their own bowls. A pitaya bowl is prepared the same way as acai except it uses frozen, diced dragon fruit instead of acai berries.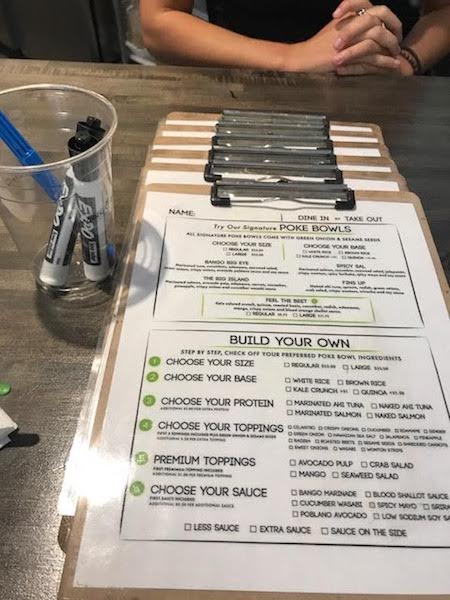 Another big hit at Bango Bowls is the selection of Poke Bowls. Poke (pronounce po-kay) is traditionally a raw fish salad served as an appetizer in Hawaiian cuisine but has recently become a popular dish for lunch or dinner here - and Bango Bowls has certainly gotten on board. They offer a selection of signature poke bowls which can also be customized to your taste.

Bango Bowls makes it even easier to order Poke Bowls by supplying laminated menus and expo markers. For the base of the bowl you can choose from brown rice, white rice, kale crunch, or quinoa. Then, for protein, select from marinated ahi tuna, marinated salmon, naked (not marinated) ahi tuna or naked salmon. The first protein is included and each extra is $3.00. For the toppings, pick three from from along list, and add extras for just $0.50 more. You can also select a premium topping which includes avocado pulp, seaweed salad, mango, or crab salad, any additional premium topping is $1.00. Finally, you can choose from a selection of sauces to either get on the side or mixed in.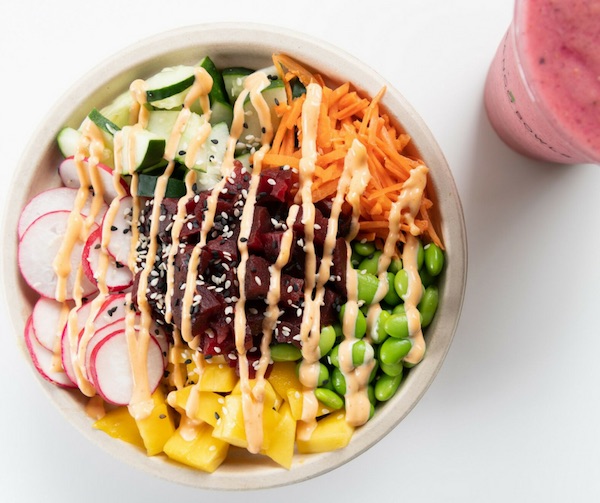 I like the Bango Big Eye bowl with brown rice which includes marinated ahi tuna, cucumbers, edamame, seaweek salad, sweet onions, crispy onions, avocado poblano sauce and soy sauce and it usually runs about $12.50 for a regular size.

For breakfast, the oatmeal is delicious. They recommend the Holy Hamptons, which is steelcut oatmeal topped with peanut butter, bananas, coconut, and chocolate chips.

You can top the steelcut oatmeal with healthy options like fruits and seeds. If you've got a sweet tooth, go for the nutella, cookie butter, marshmallows, or chocolate chips and breakfast will taste more like dessert.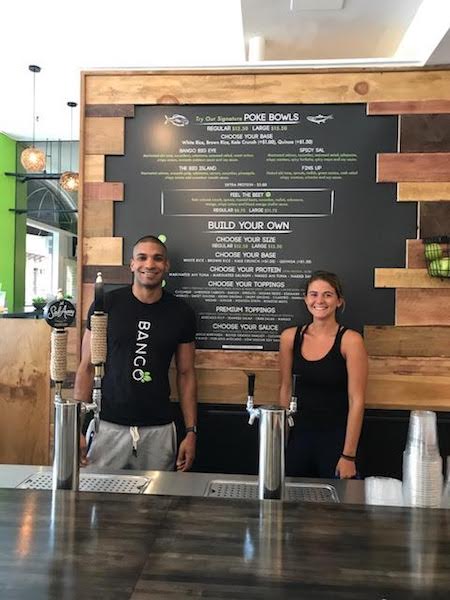 Not that hungry? Bango Bowls also offers several signature smoothies and coffee. Whether you're looking for a full meal or just a small snack, each bowl comes in a variety of sizes and can satisfy any cravings.

Bango Bowls
16 Harwood Court
Scarsdale, NY
(914) 725-0555
7am - 8pm daily