Fox Meadow Fifth Grader Competes on Master Chef Junior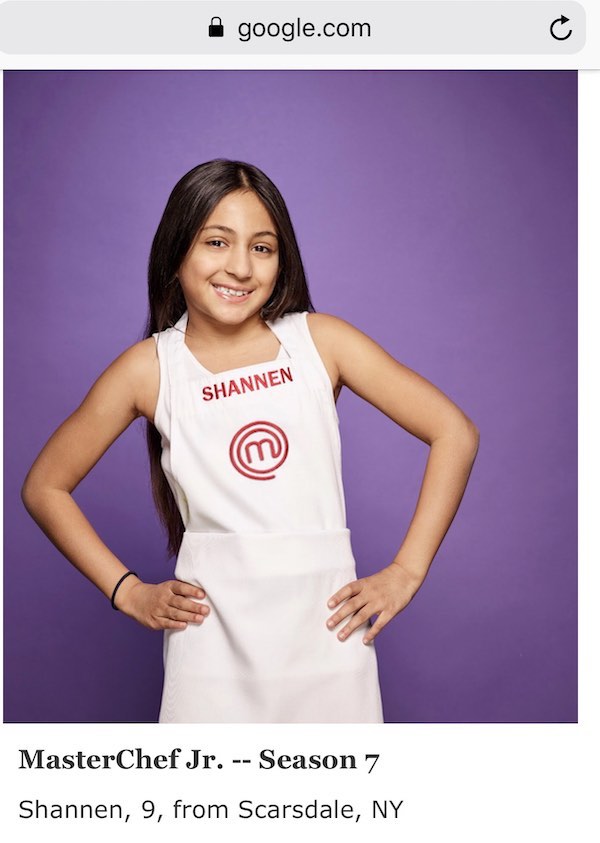 Fox Meadow fifth grader Shannen Hosman is one of 24 junior chefs who competed on the television show Master Chef Junior Season 7. The 24 contestants, ages 8 through 13 flew to Los Angeles to cook and compete for the title and $100,000 in prize money.
The kids were presented with a "Mystery Box Challenge," and had to come up with breakfast from the contents of the box. The contest was judged by host Gordon Ramsay, pastry chef Christina Tosi, and restaurateur Aarón Sánchez and will be aired on March 5.
We asked Shannen a few questions about the experience and here is what we learned:
At what age did you start to cook?
I started to cook when I was 7 years old.
What were some of the first dishes you liked to make?

I really like to make lamb chops with potatoes, mushrooms, and other vegetables.
How did you learn about the Master Chef show and what did you do to apply to compete?
My mom found out that master chef junior was open for kids to apply through social media. So she asked me and my sister if we wanted to participate in this competition. When me and my sister found out we were extremely happy. We always would watch Master Chef Junior at home, so of course we wanted to participate.
Where did you go for the taping of the show and what did you do there?
My dad and I had to go to LA, California in order to tape the show. On master chef junior you have to compete against other kids to pass the Elimination round. In order to pass your food has to look and taste excellent. At the end if you win the final round you get a trophy and 100,000$.
What did you do to prepare for the competition?
To prepare for the competition I had to work on my cooking skills and being creative with new cooking recipes.
Can you share your recipe for Yellow Turmeric Grilled Chicken with a Vegetable Medley?
Sorry but the yellow turmeric grilled chicken with a vegetable medley is one of my secret dishes so I can't share the recipe. Sorry.
What did you cook in the competition in Los Angeles?
Unfortunately I can't answer this question. Because by contract we cannot share any information before show airs on tv. We are not permitted to give any information to spoil the upcoming episodes.
What else do you enjoy in Scarsdale - what are your favorite subjects or activities?
In Scarsdale I like to hang out with the Gucci Gang (my best friends from school ), go to Haagen Dazs and Scoops, play for Fox Meadow elementary schools basketball team, and go biking with my family to Edgewood park.
Shannen can be seen on Master Chef Junior on Fox on March 5.